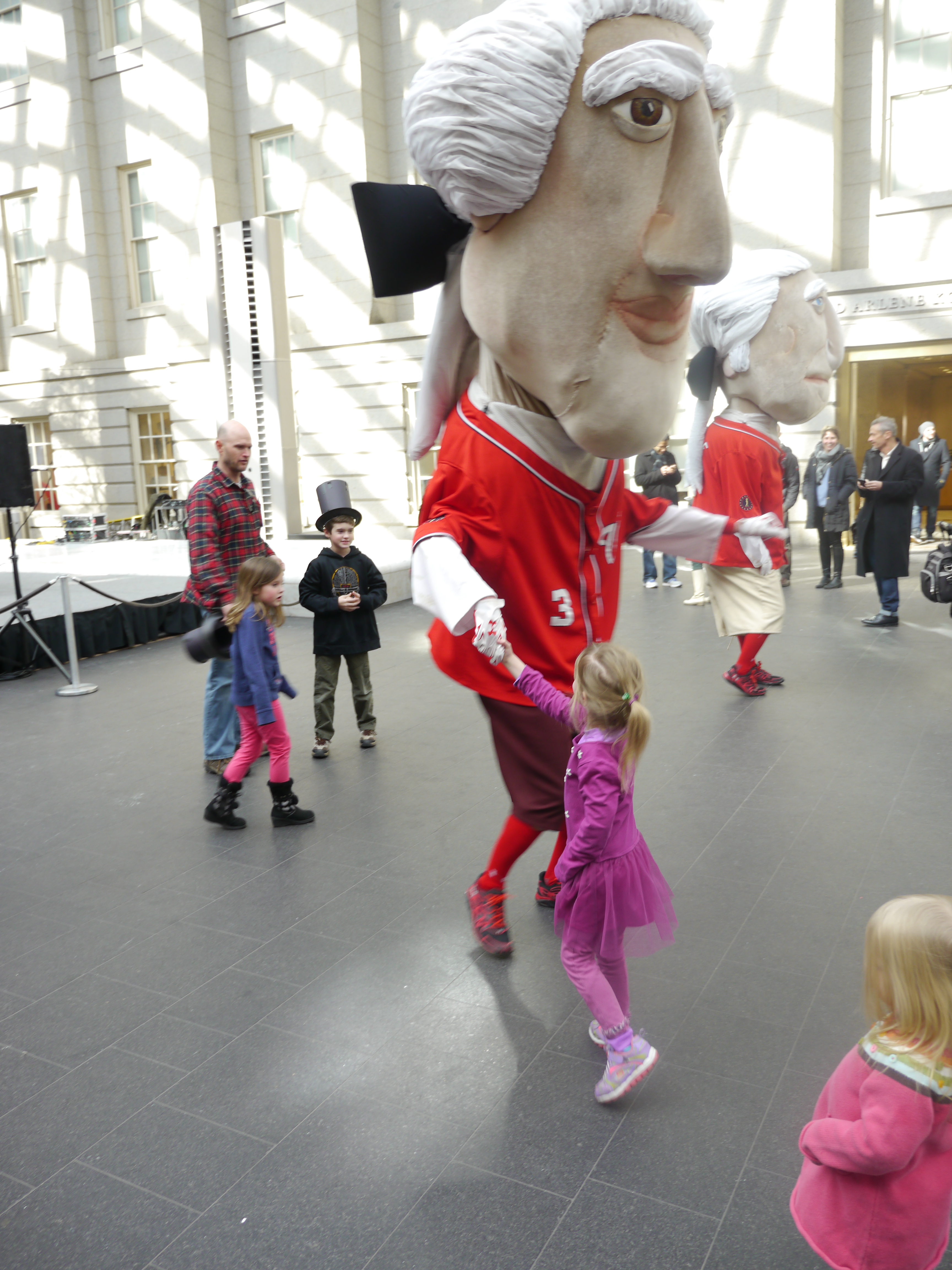 America's presidents are celebrating a big year – their fiftieth at the National Portrait Gallery! Our annual Presidential Family Fun Day is this Saturday, February 17, from 11:30 a.m. to 3 p.m. Join us as we look back on fifty years of presidential portraiture.
Visitors of all ages are invited to celebrate Presidents' Day at the National Portrait Gallery during the Presidential Family Fun Day. We will kick off the program with some giant familiar faces. Our special guests, the Washington Nationals' Racing Presidents, will be in our Kogod Courtyard from 11:30 a.m. to 1:30 p.m. Meet local legends George, Tom, Abe, Teddy, and Bill and see if you can beat them across the finish line!
Once you've met the presidents, have a go at impersonating them. Try a president's outfit on for size with a variety of costumes. How will you pose as president? What kind of facial expression feels the most presidential? Will you stand with your constituents or alone? Post your photos along with your favorite quotes from past presidents. To complete your presidential look you can take part in a workshop from President Lincoln's Cottage to create your very own iconic stovepipe hat.Learn more about the portraits with tours and stories in "America's Presidents." At noon join Ann Shumard, National Portrait Gallery curator of photography, for a tour of photographs including our new image of John Quincy Adams by Philip Haas, the earliest known photograph of a U.S. President, and Alexander Gardner's Cracked Plate photograph of Abraham Lincoln. At 1:30 National Portrait Gallery historian Kate C. Lemay will take visitors through the exhibition to highlight interesting facts and serious issues regarding the presidency. Younger visitors will love sitting with our friends from DC Public Library for presidential story time at 1:00 and 2:30.
As we celebrate familiar faces we also welcome two new faces to the museum. Our two newest portraits, Barack Obama by Kehinde Wiley and Michelle Obama by Amy Sherald, will be on display for visitors to see for the first time. Art activities will help visitors further engage with the portraits and try their hands at Wiley and Sherald's techniques.
Art workshops, writing activities, and games in the courtyard will be accompanied by live music through the decades. A local favorite, the "Original" Moonlighters band, will play hits from the 60s, 70s, 80s, 90s, and 2000s up through modern day. They will even play some presidential favorites to keep your toes tapping like some of our musical leaders.
Meet the presidents, learn about the presidents, pose like the presidents, and dance to the music beloved by the presidents as we recognize and pay tribute to the nation's commanders in chief and their portraits.