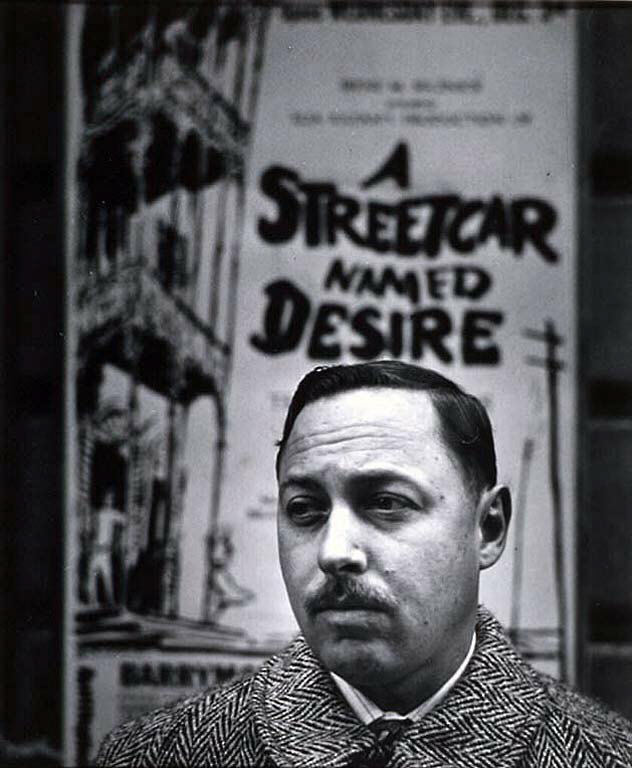 "I think people who are shocked by the truth are not deserving of the truth and the truth is something one has to deserve."-Tennessee Williams
On this day in 1911, Tennessee Williams was born. Despite being one of the greatest playwrights of all time, you may be thinking "Tennessee Wi—who?" (you're not alone). While Kevin reminds us of how reputations fade (thanks, Kev), Williams' art deserves to be remembered. Winner of two Pulitzer Prizes in Drama for A Streetcar Named Desire (1947) and Cat on a Hot Tin Roof (1955), Williams also celebrated major successes for Summer and Smoke (1948), The Rose Tattoo (1953), Suddenly Last Summer (1958), Sweet Bird of Youth (1959), and The Night of the Iguana (1961). Many of his plays were adapted for film and Tennessee Williams became a household name, however his works are not so family friendly. With much influence from English playwright D.H. Lawrence, Williams work focused majorly on sexual desires and promiscuous sexual relationships. Tennessee Williams believed his characters to be representations of reality and truth, stretching the ways in which society openly discusses sexuality and violence. He confronts his audiences with the unsettling truth of the home as anything but a comfortable retreat. An idea derived from his personal experiences.
To describe Tennessee Williams as a man of complex emotion would be an understatement. A poet and playwright, Williams, originally born Thomas Lanier Williams, has said that he wrote out of an "intense personal need." His work references figures from his childhood, constructing a sort of self-portrait through his work. As a child, Williams' father drank heavily and was unfaithful in his marriage. His mother was a southern belle in excess with an aversion to sex. Early 20th century gender roles, the example of his parents' difficult marriage, and his stigmatized homosexuality would create in his work the deconstruction of feminine and masculine behavior, positioning the audience between societal expectations and complex personal desires. His portrayal of women, specifically, situates women in both a place of power and submission.
Williams himself led a promiscuous lifestyle, all the while struggling with addiction. He starred in his own play Small Craft Warnings (1971), sabotaging its success by forgetting his lines, ultimately derailing the other actors. He wrote about his lonely and tempestuous life in Memoirs (1972) and Moise and the World of Reason (1975). Williams passed away in 1983, leaving behind a legacy for pushing the boundaries of sexuality on the big screen.