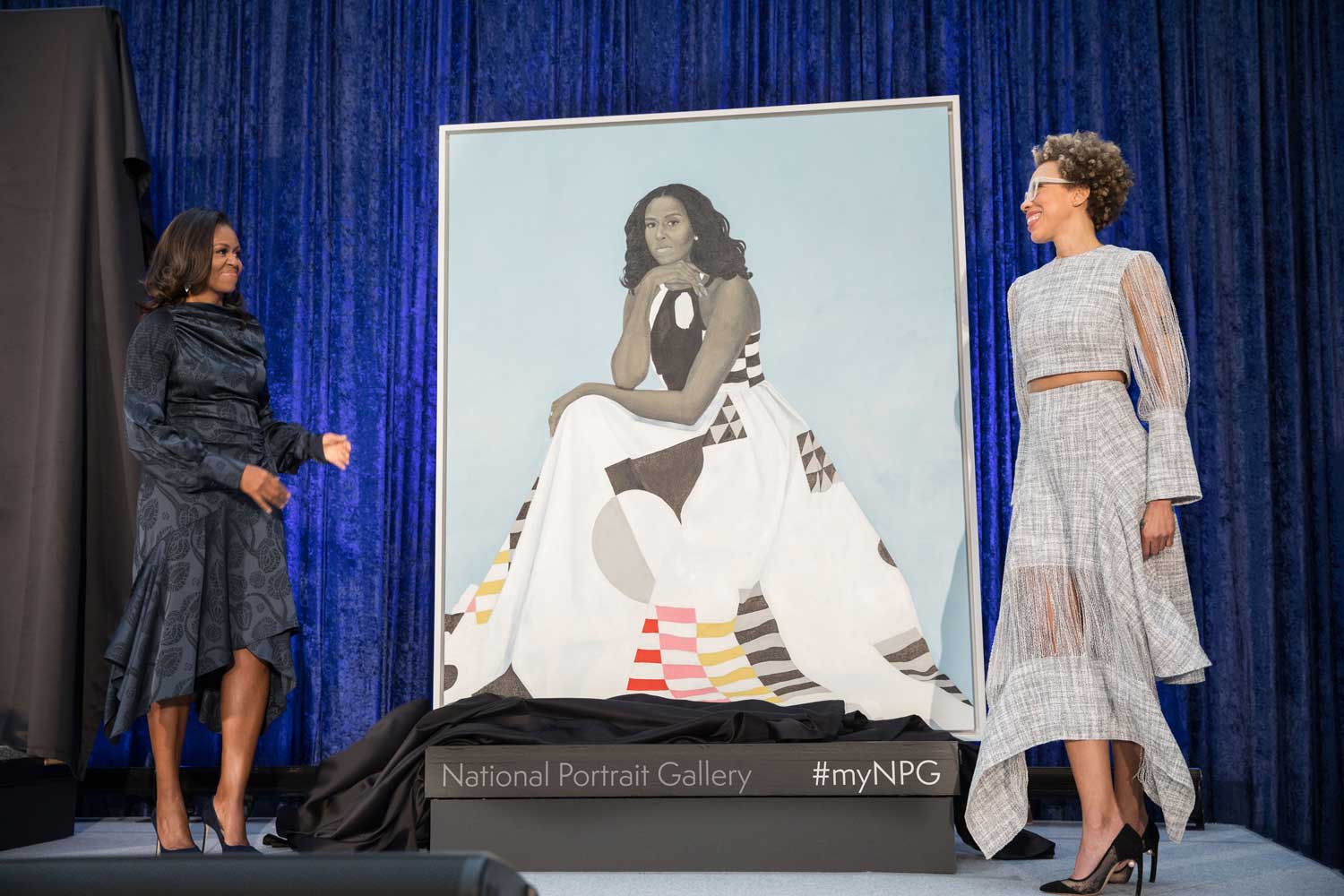 Growing up in Columbus, Georgia, Amy Sherald looked for images of African Americans in advertising, art books, and in local museums and galleries. It was disappointing to her as a young adult not to find dignified portrayals of people who looked like her. In 2016, when she won the National Portrait Gallery's Outwin Boochever Portrait Competition for her painting Miss Everything: Unsuppressed Deliverance, she told a group of young African American girls visiting the museum that she painted the portrait for them so that "when you go to a museum you will see someone who looks like you on the walls."
Amy Sherald's portrait of Michelle Obama channels the spirit of universality and inclusion that defines her work. It is a private, contemplative view of the former First Lady, who selected Sherald to portray her. As is characteristic of her work, Sherald has captured a quiet, familiar moment, revealing an archetypal view of the subject, which is emphasized with flattened, stylized forms. The resulting portrait, like Michelle Obama herself, is one that Sherald hopes anyone can relate to regardless of race or gender. As Sherald noted at the unveiling, "Once my paintings are complete the model no longer lives in that painting as themselves.  They have become something bigger, more symbolic. . ."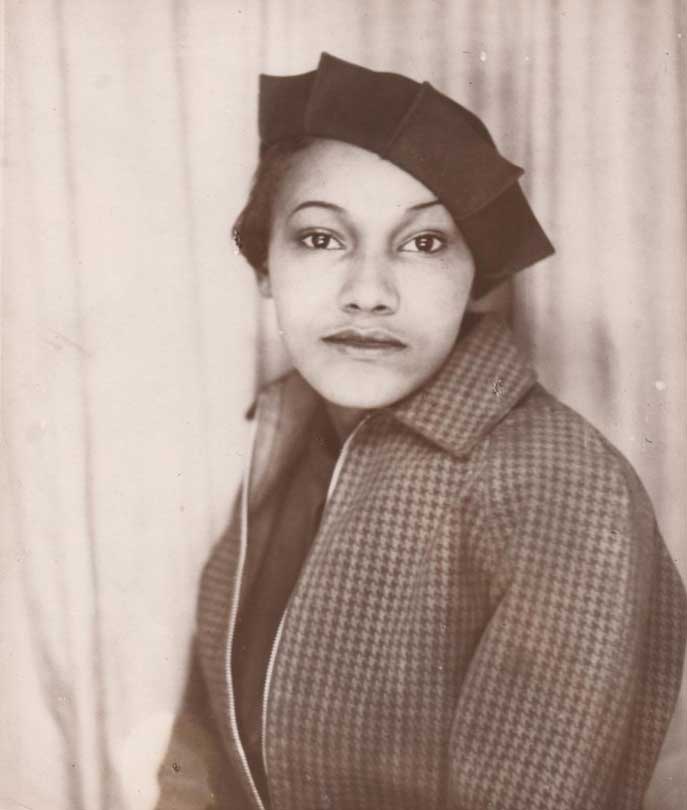 The grey skin tones, typical of her work, reference black-and-white photographic images of African Americans, specifically a snapshot she keeps of her grandmother, Jewell.  The photograph made her think about the history of representation of African Americans in art. As she studied this history, she discovered W.E.B. DuBois's "American Negro" exhibition at the 1900 Paris Exposition and the 363 images that he compiled into albums titled "Types of American Negroes, U.S.A. and Negro Life in Georgia." Similar to what she saw in her grandmother's image, Sherald was struck by the strength she found in so many of the portraits compiled by DuBois. The subjects claim their space and Sherald wanted to capture that same sense of self-possession in her paintings of contemporary subjects with a reference to the history of portrayals of African Americans. Her portraits remind us that this history has been dominated by photography.
Many people who have visited the portrait after seeing it only in reproduction, comment on the depth and dimension of the painted surface. This effect is in part a result of Sherald's process which involves a base color of Gamblin Napthol Scarlet, the cool, translucent red that she places on top of gesso as a base for all her painting. The soothing background color is a shade of blue that Sherald mixed using Old Holland's Old Yellow Light, Kings Blue Light, and Cerulean Blue.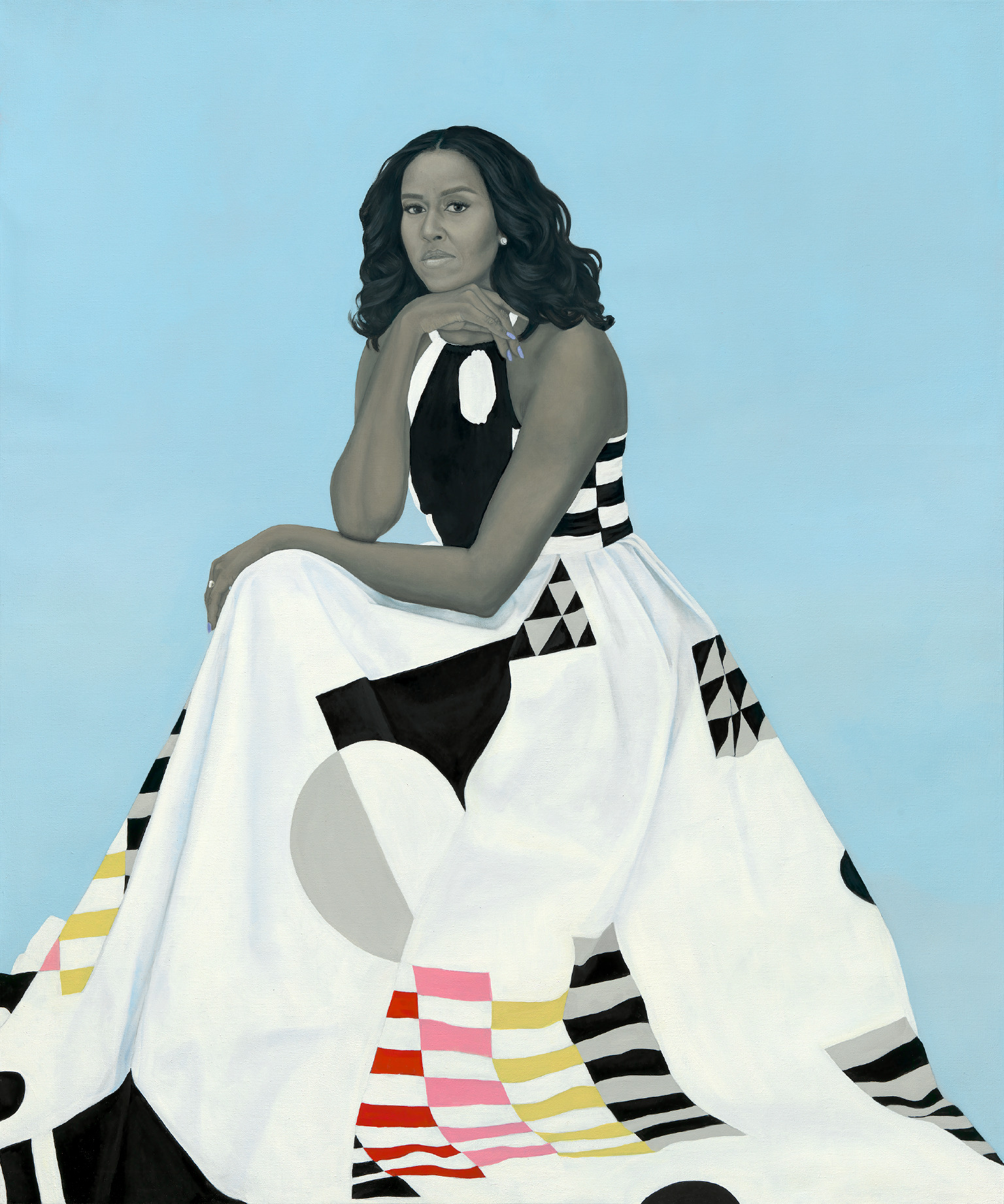 Michelle Obama is portrayed wearing a dress by designer Michelle Smith, founder of the contemporary women's brand Milly. Sherald and Michelle Obama thought about the dress selection together and Sherald chose the dress based on the geometric designs, which reminded her of Mondrian's paintings and also the designs of the African American women quilt makers of Gee's Bend, Alabama.
Sherald's work, including her portrait of Michelle Obama, is a testament to the power of portraiture to expand notions of individual and collective identity. In her use of portraiture as an activist art form, Amy Sherald is among the American artists who are at the forefront of contemporary art, breathing new life into the art of portrayal and defining the genre's direction for future generations.