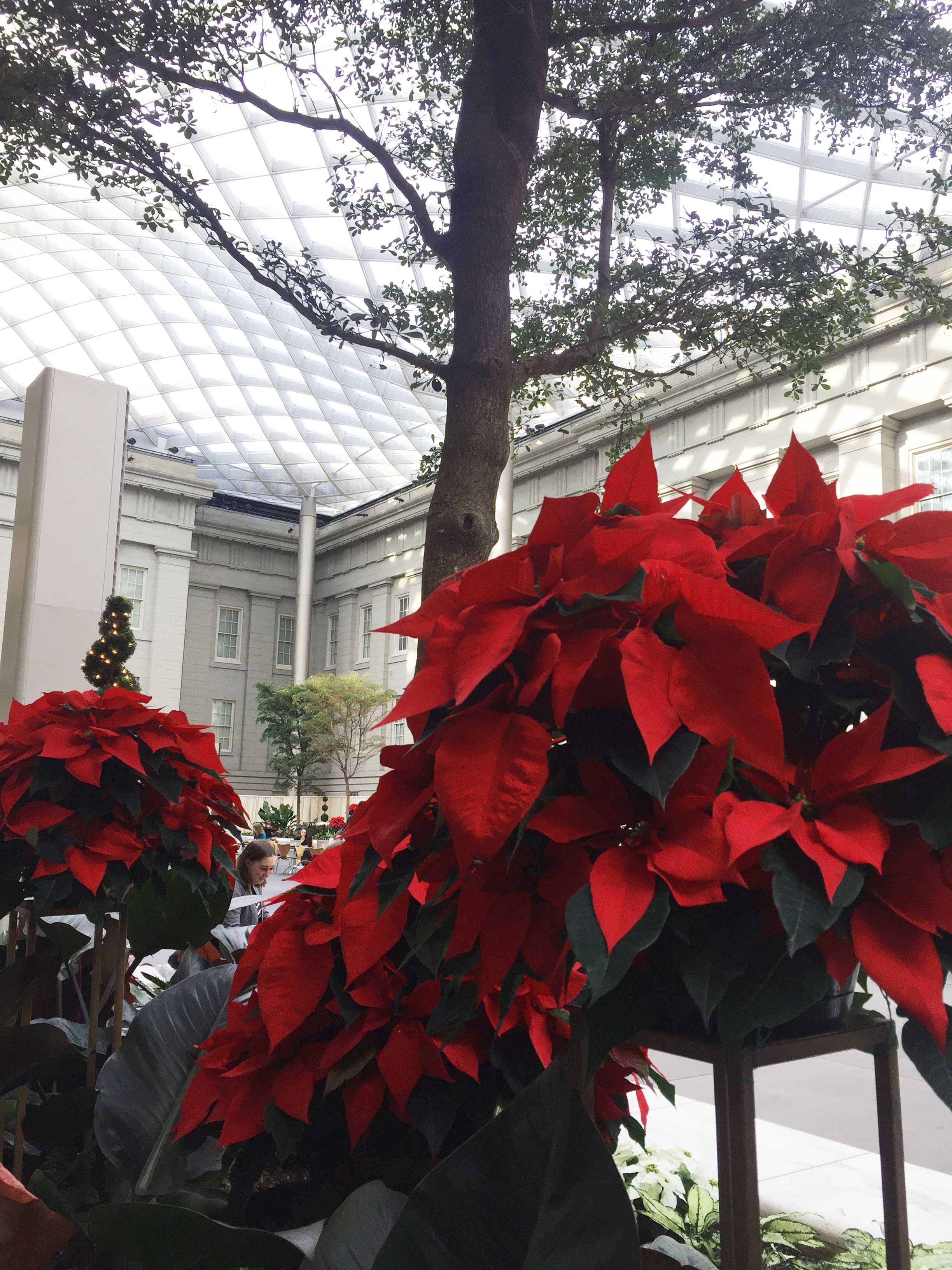 For the past month, Smithsonian Garden's horticulturists have been busy brightening the Smithsonian museums with holiday decorations. By the end of the first week of December, they installed and decorated fifteen trees, several yards of garland, dozens of wreaths, and a wide variety of topiaries. All of the displays are complemented with hundreds of colorful poinsettias grown by Smithsonian Gardens' production staff. The large planting beds of the Kogod Courtyard in the Donald W. Reynolds Center provides our horticulturists with a wonderful opportunity to create larger festive displays featuring unique varieties of poinsettias.
Smithsonian Gardens grows about 1,400 poinsettias every season in its offsite greenhouse facility. The horticulturists begin planting the poinsettia crop in mid-July with the goal of reaching a finish date of Thanksgiving week. The varieties grown alternate from year to year and are selected for their growth habits and physical characteristics.
Here are some fun facts about poinsettias:
The poinsettia's botanical name, Euphorbia pulcherrima, means "very beautiful."
The leaves (or bracts) transform into colors such as red, pink, and white.
Cyathia are the small, yellow, cup-shaped clusters that grow within the poinsettia bracts. They are the actual flowers on the plant.
Ancient Aztecs used the poinsettia's sap for medicinal purposes and its bracts to make red dye.
The poinsettia was introduced to the United States in 1825 by Joel Roberts Poinsett, the first United States ambassador to Mexico and an amateur botanist.
During the 1830s the poinsettia was referred to as the Mexican fire plant and the painted leaf.
After Poinsett's death in 1851, the plant was renamed in his honor.
The widespread belief that poinsettias are poisonous is a misconception, though eating the plant is not recommended. Ingesting large amounts of the plant can upset one's stomach.
In 1992, the poinsettia was included on a list of houseplants identified as being most helpful in removing pollutants from indoor air.
 December 12 is National Poinsettia Day in the United States.
California is the top producer of poinsettias in the United States, with more than 80 percent of the plants being grown there.
Poinsettias are "photoperiodic" which means that they need a long night/short day cycle in order for the bracts to turn their magnificent colors.