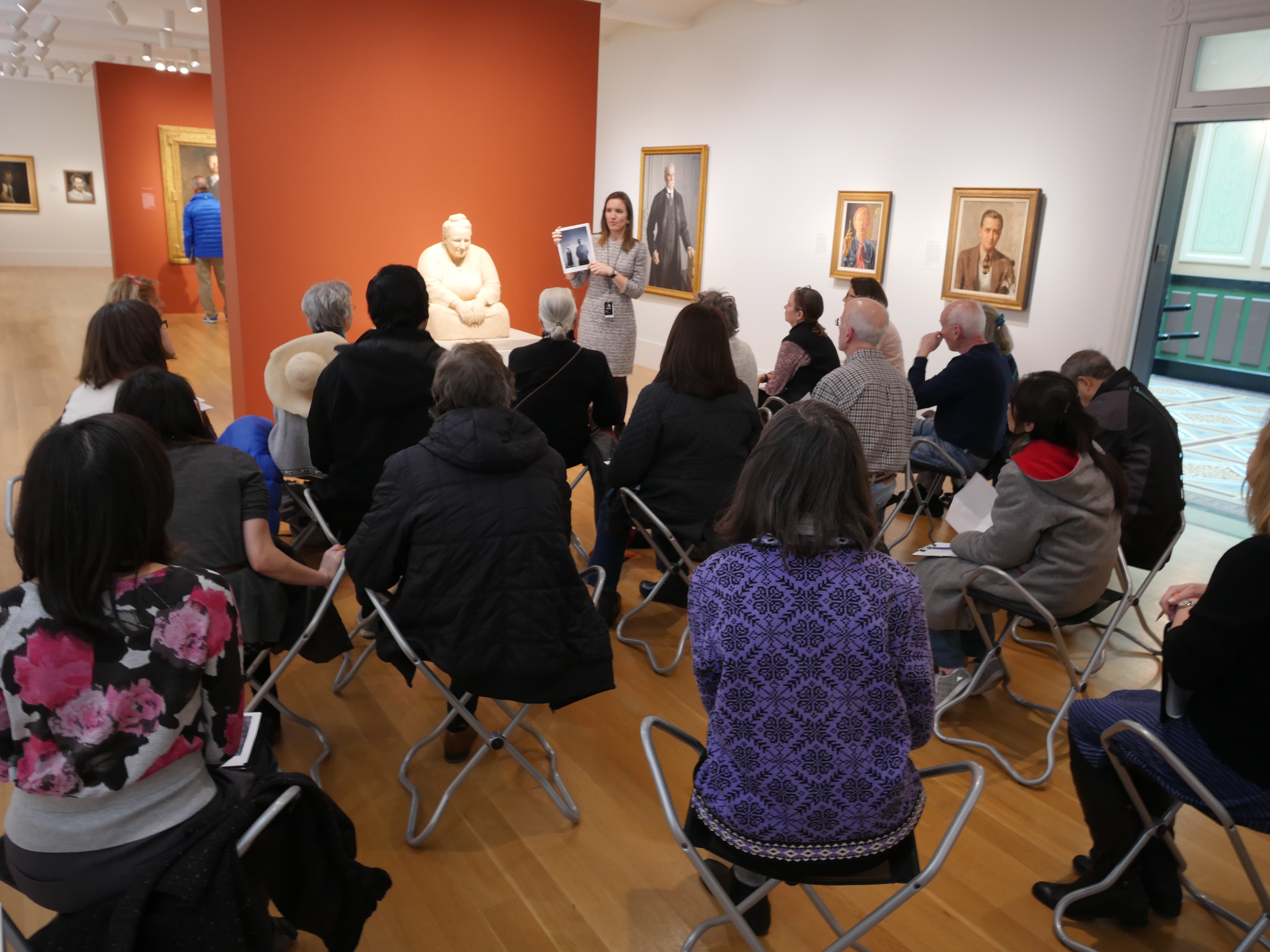 It is estimated that currently more than 5 million Americans have some form of dementia. In the coming years, this number will increase rapidly as baby boomers age. People with memory loss are and will continue to be visitors to our museums, whether we know it or not, and they require specific accommodations and programs. Those of us working in access programs at the National Portrait Gallery have been asking ourselves how we can best respond to their needs, desires, and challenges. As public institutions with a mission of community service, how do we serve this population? Fortunately, a number of museums have already committed themselves to developing programs and services for those with memory loss and have thereby produced best practices and lessons that we can learn from.
In addition to doing our own research, reading, and reaching out to colleagues in the museum field, we were fortunate to be able to participate in a training program run by Arts and Minds, a NYC-based organization that seeks to improve the lives of those living with memory loss through engagement with art. The training provided staff preparation and addressed topics such as the symptoms, behaviors, and needs of people living with dementia; the selection of appropriate artworks; facilitation and interaction skills (listening, object-based discussions, group dynamics); and the logistical aspects of designing and delivering such a program.
Rather than develop a partnership with an assisted-living or adult-daycare facility (one type of program model), we decided to target home-based individuals and their care partners because we knew from research that care partners often suffer from depression and fatigue in their roles as caregivers and crave positive and stimulating experiences just as the person with dementia does. These types of programs get people with memory loss out of their homes and into the community and give their caretakers a much-needed break. Preliminary research has shown that meaningful museum-based activities create positive emotional and cognitive experiences, enhance verbal and non-verbal communication, reduce isolation and depression, and build social networks for the person with dementia, as well as their family members or care partners. We feel that the Portrait Gallery's unique collection, with its focus on art, stories of history and biography, and the broader topic of identity, is particularly well-suited for creating meaningful and enjoyable experiences for this population.
Since completing the training program in October, we have offered See Me at the Portrait Gallery twice a month. During the first program, we led the group of eight participants through an interactive, participant-centered gallery discussion of two portraits in Struggle for Justice: Marion Anderson by Betsy Graves Reyneau, and a sculptural work of Rosa Parks by Marshall D. Rumbaugh. Participants appeared engaged and contributed to a rich discussion in the form of questions, comments and personal reminiscences. One woman commented, "She is so beautiful." We added a multi-sensory dimension to the experience by playing a brief recording of Anderson as she sang in front of the Lincoln Memorial, the event that is captured in the painting. Several participants closed their eyes and swayed their heads as they listened intently.
We look forward to continuing to provide positive experiences for many more visitors with memory loss and their care partners. If you or someone you know is interested in attending, please visit our Access Programs page for details and to register.