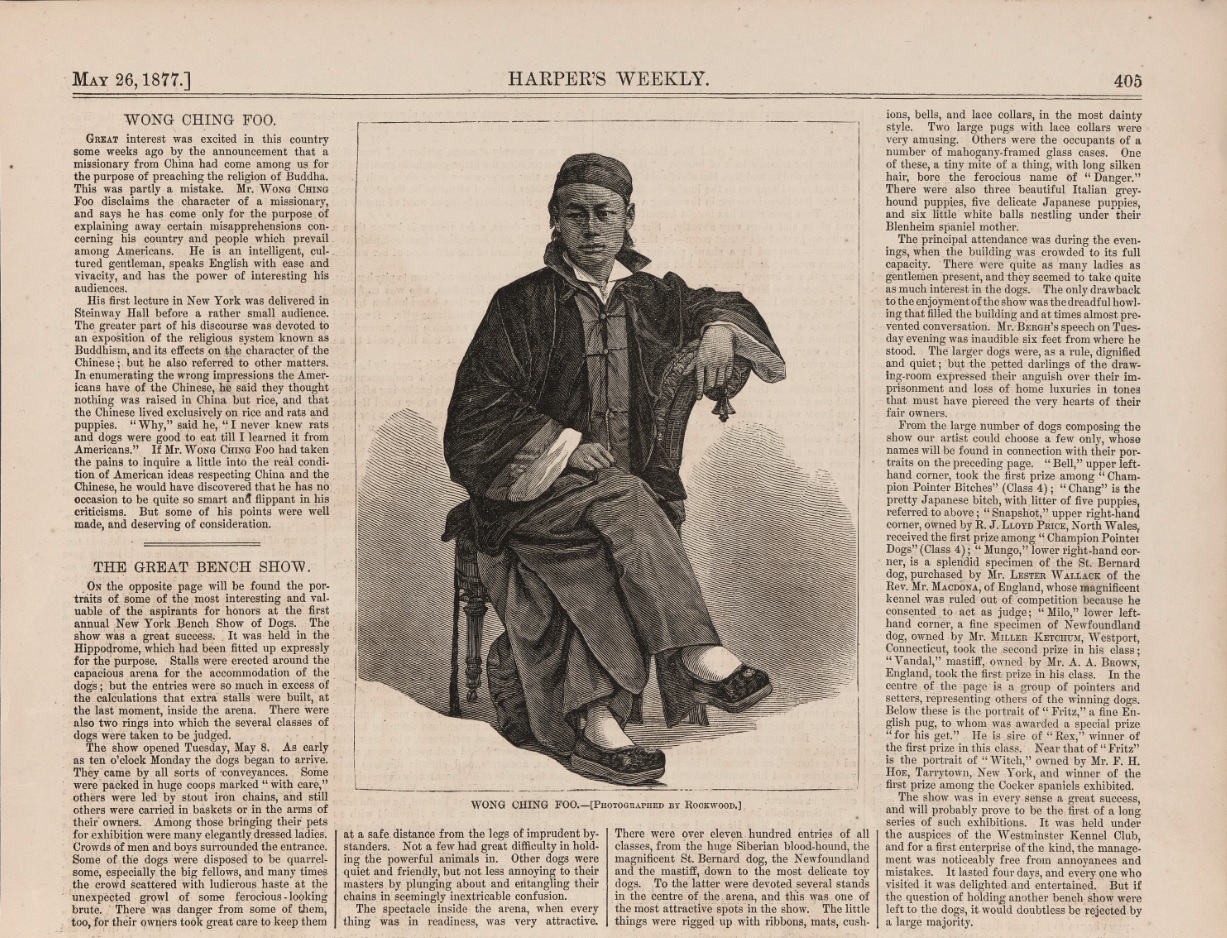 Wong Chin Foo was a pioneer in America's long civil rights struggle. During the last three decades of the nineteenth century, he became the most outspoken champion of Chinese immigrants to the United States, combatting prejudice through his lectures and publications and seeking justice through legal and political activism. By 1885, a journalist in New York considered him "the most widely known, and doubtless the most accomplished, native of China now resident in this city, and probably of this country."
Wong's American odyssey began in 1861 when, as a destitute thirteen-year-old, he entered the home of American missionaries stationed in a small fishing village in northeastern China. They initiated his formal education and brought him to the United States in 1867 in hopes of grooming him for missionary work. Instead, Wong traveled from coast to coast delivering lectures that dispelled popular misconceptions about China and the Chinese. He published 140 articles in regional newspapers and national periodicals, becoming the most widely published Chinese-American writer of the nineteenth century. He even found time to publish a novel—the first Chinese American to do so.
Wong delighted in challenging his audiences' cultural prejudices by detailing American habits and beliefs that revolted the Chinese as "barbaric." In "Why Am I a Heathen?" he inverted the polemical view of religion inculcated by American missionaries, extolling the superior virtues of Confucianism relative to Christianity.  Scoffing at the notion that Chinese cooking featured kittens, puppies, and mice, he offered mouth-watering descriptions of actual Chinese dishes, including (in 1884) the first published reference to chop suey.
Following passage of the Chinese Exclusion Act in 1882, Wong became a community leader and political activist. In 1883 he coined the phrase "Chinese American" as the title of the weekly newspaper he published as a means of raising political awareness among thousands of Chinese expatriates. When passage of the Geary Act in 1892 imposed what he viewed as further "monstrous, inhuman, and unconstitutional" restrictions on the Chinese, Wong founded the Chinese Equal Rights League of America. The following year, he became the first Chinese person to appear before Congress when he addressed the House Committee on Foreign Affairs on a proposed bill legislating citizenship for Chinese Americans.
Wong often described himself as "Americanized," specifically because he had taken to heart the noble principles enshrined in the founding documents of the United States. He challenged the government and people of his adoptive country to live up to those virtues and, in so doing, helped ensure that America's moral arc bent a little closer toward justice.