Perry's Victory on Lake Erie
Thomas Birch (1779–1851)

Oil on canvas, c. 1814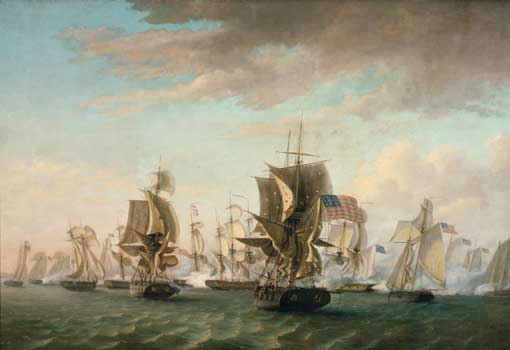 In February 1813, Oliver Hazard Perry was given command of the naval force on Lake Erie. Previous American defeats on land made control of the lake crucial for securing the Northwest Territory. On August 2, Perry succeeded in moving his brigs across a sandbar into deep water, with the British fleet in sight but unaware of his vulnerability.
On September 10, Perry unfurled his "Don't give up the ship" pennant on his flagship, the Lawrence, and led his ships into battle. For two hours, the Lawrence took most of the British fire; when it became disabled, Perry transferred his flag to the Niagara.
After the British surrendered, Perry sent Major General William Henry Harrison the most famous after-action report in American history: "We have met the enemy and they are ours." Perry's victory led to American successes on land and control of the Northwest Territory.