12 at Midnight; the Hibernia Attempting to run the Comet Down
Thomas Whitcombe (c. 1760–c. 1824)

Oil on canvas, 1814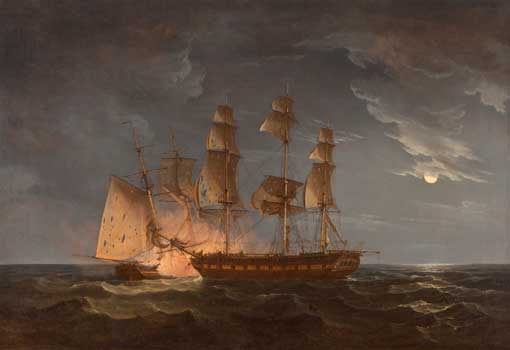 Privateers like the Comet—privately armed vessels acting under legal authority from President Madison to seize enemy vessels as prizes of war—were sleek and fast, cramming in crews of 100 to 150.
During the War of 1812, President Madison issued 500 letters of marque authorizing privateers; 200 of the ships took prizes. It cost $40,000 to buy and fit out a large privateer; prizes could net $100,000. Thomas Boyle, one of the most successful privateers, captained the 350-ton, sixteen-gun schooner Comet from 1812 to 1814, taking twenty-seven prizes with a crew of 130.
On January 11, 1814, Boyle engaged the twenty-two-gun, 800-ton Hibernia in the West Indies in a battle beginning at 7:30 p.m. At half past midnight, the Hibernia, as depicted here, attempted to ram the Comet. The battle ended indecisively at 3:00 a.m., with eight dead and thirteen wounded on the Hibernia to three dead and sixteen wounded on the Comet.