Andrew Oliver Jr. 1731–1799
Joseph Blackburn (fl. 1752–1777)
Oil on canvas, 1755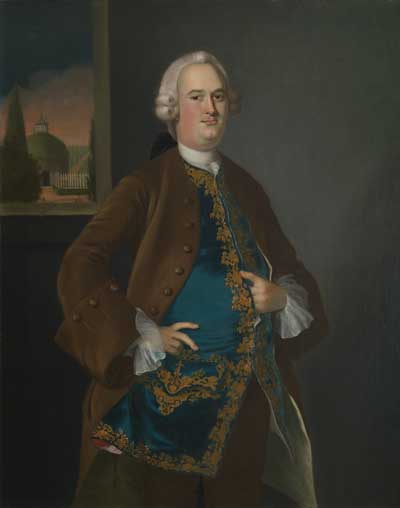 Andrew Oliver Jr., the son of Massachusetts lieutenant governor Andrew Oliver, graduated from Harvard College in 1749 and received master's degrees from both Harvard and Yale. Appointed judge of the Court of Common Pleas in 1761, Oliver was a man of many interests, ranging from astronomy to music and poetry.
His 1772 Essay on Comets led to his election to the American Philosophical Society the following year. In the background of his portrait is a dovecote, or pigeon house, used to raise domesticated birds; their eggs and the young squabs were harvested as food.
The structure, which was identified during research for this exhibition, is unique in American colonial painting; it symbolizes Oliver's property ownership and thus, his status.