Mary Lynde Oliver &nbsp1733–1807
Joseph Blackburn (fl. 1752–1777)
Oil on canvas, 1755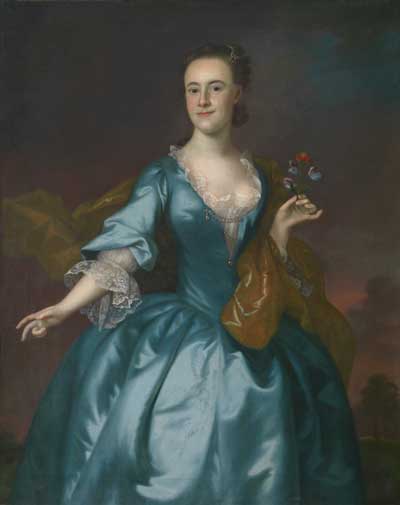 Mary Lynde Oliver and her husband Andrew Oliver were painted in 1755, three years after their marriage. The timing no doubt was due to the arrival of itinerant English portrait painter Joseph Blackburn in Boston (where the Olivers lived).
Blackburn is first recorded in 1752 on Bermuda, where he painted portraits for two years before moving to Newport, Rhode Island.
The Olivers' portraits are classic images by Blackburn, whose poses and techniques mirrored contemporary English portraiture. The delicate treatment of the details of Mary Oliver's lace bodice and sleeves exemplifies the artist's much-admired skill at representing fabrics.
Blackburn worked for four years in Boston, where the young artist John Singleton Copley imitated his work. He also painted portraits in Portsmouth, New Hampshire, before returning to England by January 1764.