Catharine Peabody Gardner 1808–1883

Rembrandt Peale (1778–1860)
Oil on canvas, 1827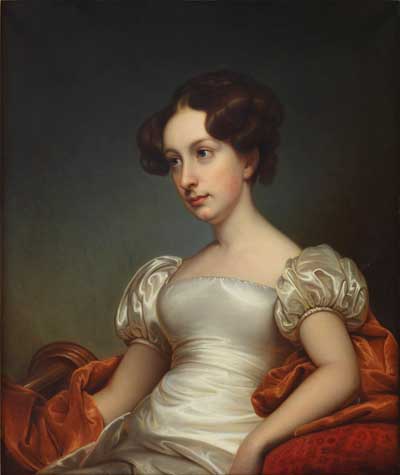 Rembrandt Peale painted this richly colored image of Catharine Peabody Gardner in Boston the year after her marriage to businessman John Lowell Gardner.
Peale, the son of American painter Charles Willson Peale, had developed his neoclassical style when he studied painting in France from 1808 to 1810. In 1826 he moved from New York to Boston, where he spent two years exhibiting his work and studying the new technology of lithography.
Catharine's cousin Sophia Peabody saw the unfinished portrait in Peale's studio in Boston in October 1827: "Then we went to Peale's, & saw Washington, Mr. Sparks, Charles Bonaparte, &cetera, & Mrs. Gardiner (Catharine Peabody) half finished. Peale was deeply engaged & did not stop to tell us who was who."
Catharine's son John Lowell Gardner Jr. would become the husband of Boston art patron and collector Isabella Stewart Gardner.