Diana #3 (Diana Moore Beckman)
William Beckman (born 1942)
Oil on panel, 1976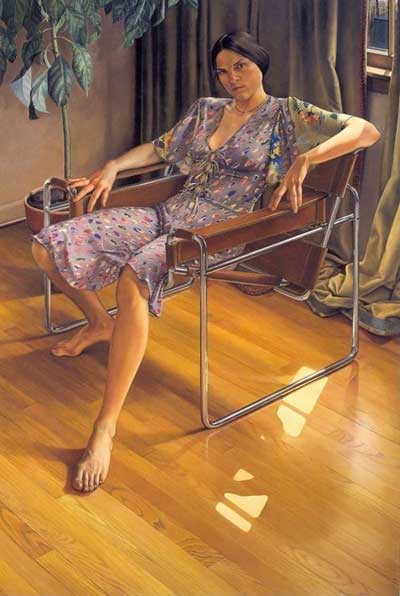 I only paint people I know really well . . . . My way of being with someone I like is by painting that person.

In 1971, shortly after Minnesota-born William Beckman moved to New York, he began a series of paintings in which his then-wife, Diana Moore Beckman (born 1946), a sculptor, served as the model. Diana #3 is among the more complex compositions in which she figures, and one of the rare works in which she is not posed frontally.
The careful articulation of the figure and the objects speaks to Beckman's love of Northern Renaissance painting, with its precise rendering of reality.
Beckman delights in juxtaposing meticulously observed elements: the hardness of the varnished floor opposed to the soft curtains; the highly patterned and richly colored, supple dress against the monochromatic, sculpture-like limbs of the figure; even the chair's matte leather surface contrasts with its reflective steel frame.
Beckman also takes equal pleasure in capturing the play of light throughout the composition.