Mathew Brady's Photographs of Union Generals
March 30, 2012 through May 2015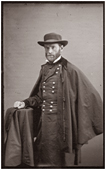 Although Mathew Brady may be best known for his photographic documentation of the Civil War, Brady's New York and Washington galleries also did a brisk business throughout the conflict by producing studio portraits of the ever-changing roster of Union Army generals. Featuring modern albumen prints made from the original Brady negatives in the National Portrait Gallery's Frederick Hill Meserve Collection, this installation will include portraits of many of the North's military leaders, from George McClellan and Ambrose Burnside to William Tecumseh Sherman and Ulysses Grant.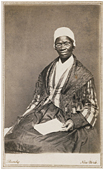 Bound for Freedom's Light: African Americans and the Civil War
Feb. 1, 2013 through March 2, 2014
Drawing principally from images in the National Portrait Gallery's collection, this exhibition will explore the roles that individual African Americans played during the Civil War and will focus attention on the impact of President Abraham Lincoln's Emancipation Proclamation. Among the featured stories will be those of Frederick Douglass, Martin Delaney, Sojourner Truth and Gordon, who escaped from enslavement on a Louisiana plantation to join a black regiment and fight for the Union. NPG curator: curator of photographs Ann Shumard.






Washington During the Civil War
Dec. 13, 2013, through Jan. 25, 2015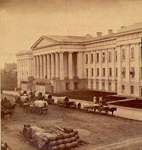 This exhibition will include approximately forty photographic reproductions showing Civil War activities around the Patent Office Building, now home to the National Portrait Gallery, as well as other recognizable locations in and around the District of Columbia. A display of the forts which surrounded and protected the District, as well as large scale views and maps of the city will also be shown.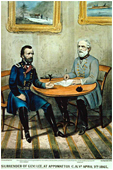 Grant and Lee
March 14, 2014 through April 19, 2015
The Civil War rivalry between generals Ulysses S. Grant and Robert E. Lee is one of the most memorable in American military history. Lee was a polished and seemingly invincible Confederate commander until he encountered Grant, a rough-hewn upstart, in the Virginia campaigns of 1864 and 1865. Ultimately, the Union would prevail, in part through the adoption of a total war philosophy of destroying armies and resources. This exhibition will consider the personal lives and professional rivalries of Grant and Lee through paintings, photographs, documents, and associative objects.




Alexander Gardner
Oct. 31, 2014, through May 3, 2015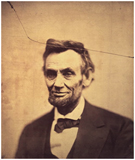 Feb. 5, 2015, marks the 150th anniversary of Alexander Gardner's "cracked-plate" portrait of President Abraham Lincoln. Arguably the most iconic likeness of the 16th president today, it was created by a man whose life and photographic career remain relatively undocumented and underappreciated. This oversight is notable, as Gardner (1821–1882) was perhaps the most progressive photographer of the Civil War era. He was influential not only in advancing photographic portraiture beyond traditional compositional conventions, but also in realizing photography's power as a documentary tool. In his mind, photographs were more than static likenesses but were active images capable of conveying narrative and recording history. The author of the first American photographic book, a leading contributor of photographic views to the illustrated press and a dedicated abolitionist, Gardner was a pioneer in his field.




American Origins, 1600-1900
Ongoing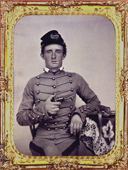 A "conversation about America" is on view in a series of 17 galleries and alcoves chronologically arranged to take the visitor from the days of contact between Native Americans and European explorers through the struggles of independence to the Gilded Age. Major figures from Pocahontas to Chief Joseph, Alexander Hamilton to Henry Clay, and Nathaniel Hawthorne to Harriet Beecher Stowe are among those included.

Three of the galleries are devoted exclusively to the Civil War, examining this conflict in depth. A group of modern photographic prints produced from Mathew Brady's original negatives complements the exhibition. Highlights from the Gallery's remarkable collection of daguerreotypes, the earliest practical form of photography, are on view in "American Origins," making the National Portrait Gallery the first major museum to create a permanent exhibition space for daguerreotype portraits.