Stephen A. Douglas (1813-1861)
Born Brandon, Vermont
Unidentified artist, c. 1859
Albumen silver print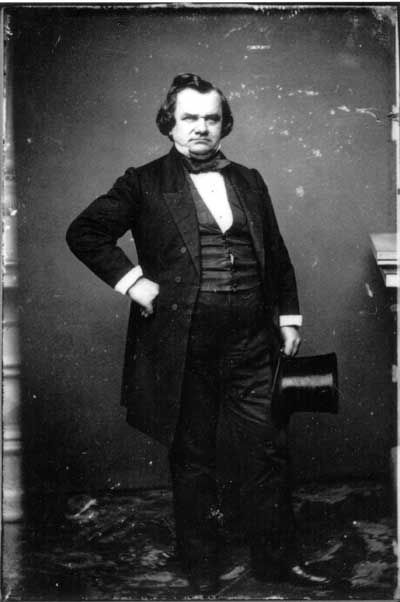 Raised in New England, Stephen Douglas's political career began when he was a fifteen-year-old supporter of Andrew Jackson. Steeped in the reforming political culture of the Second Great Awakening, Douglas's political ambition was driven by a relentless energy; he was called a "steam engine in breeches," a term curiously close to "the little engine of his ambition knew no rest," which was used to describe Lincoln.
Eager to make his mark, Douglas moved to Illinois in 1833, where he rose from local-office holding to congressman. His election to the Senate in 1847 made him a national figure. Known as the "Little Giant"—he was only five feet, four inches tall—he figured prominently in every national political debate from the Mexican War onward.
His debates with Lincoln in the 1858 senatorial campaign were the prologue to the presidential election of 1860. With the fracturing of the national Democratic Party over the issue of slavery, Lincoln defeated Douglas in a four-way race.