Jefferson Davis, (c. 1808-1889)
Born Christian County, Kentucky
Mathew Brady Studio, c. 1860
Albumen silver print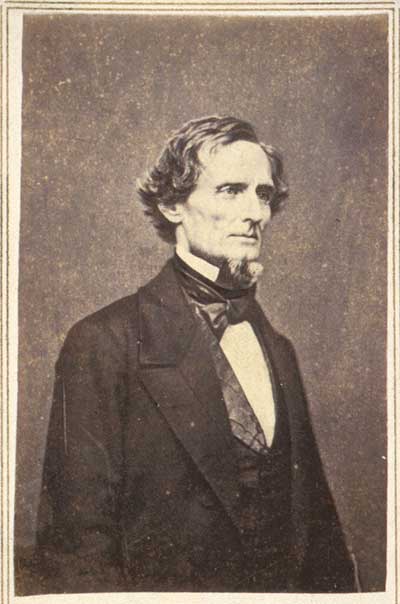 While Lincoln was indisputably the face of the Union, the figure who has come to represent the Confederacy is usually General Robert E. Lee, not Lincoln's counterpart, Jefferson Davis. Davis had a long and distinguished career as an army officer, cabinet member (he was secretary of war in the Pierce administration), and senator from Mississippi.
A defender of slavery and states' rights, Davis was not a radical and worked to find compromise solutions that would keep the South in the Union after Lincoln's election. Respected by everyone, although loved by few, he was a unifying choice as the Confederacy's first and only president.
Dogged by health problems, Davis worked himself to exhaustion to try to hold the fractious southern political system together while also managing the war. But his administrative ability could not surmount the Confederacy's weaknesses, and his lack of charisma could not lift or inspire southern morale. After the war, he was tried for treason and imprisoned for two years.