Ulysses S. Grant (1822-1885)
Born Point Pleasant, Ohio
Mathew B. Brady, 1864
Albumen silver print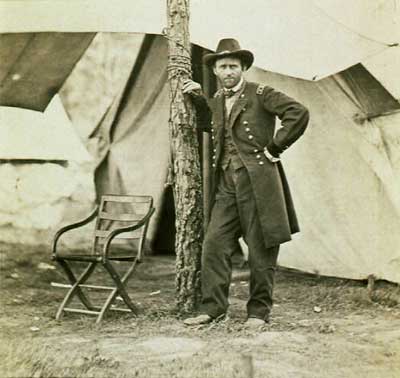 Lincoln struggled through the early years of the Civil War with generals who, for a variety of reasons, failed to match their southern counterparts. What Ulysses S. Grant grasped, like his adversaries Robert E. Lee and "Stonewall" Jackson,  was that modern warfare required armies to defeat other armies, not to try to conquer space, as existing European-based doctrine maintained.
After Lincoln tired of George B. McClellan's overly elaborate, overly cautious campaign style, he brought Grant east in 1863 to head the Army of the Potomac. Grant, whose initials reflected his adherence to a policy of "Unconditional Surrender," proceeded to place the army in front of Lee's and begin a campaign of uninterrupted violence and ferocity that saw him batter his way to Richmond by April 1865.
This picture was taken at the Battle of Cold Harbor (June 1-3, 1864), a horrific Union setback that did not deter Grant from grinding his way southward.