Octavius V. Catto (1839-1871)
Born Charleston, South Carolina
Broadbent and Phillips, c. 1871
Albumen silver print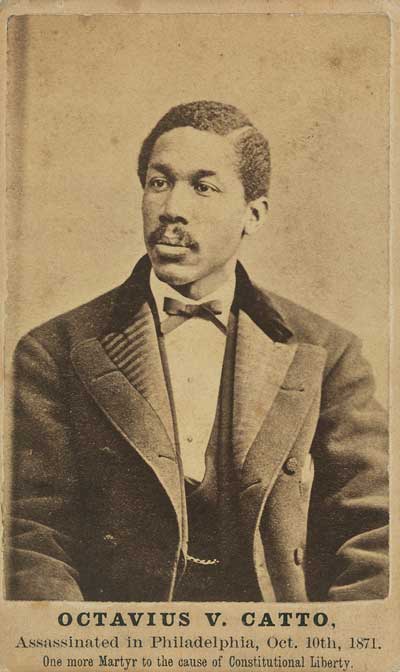 Abraham Lincoln and Octavius Catto never met, but their careers intertwined as a consequence of the war, emancipation, and civil rights for African Americans. Born the son of a slave, Catto became a schoolteacher in Philadelphia and a leading figure in the black community, both as an educator, an athlete (he founded an all-black baseball team), and an organizer for civil and social rights for African Americans.
The possibility of  emancipation galvanized Catto, and during the war he responded to Lincoln's call for black volunteers by working with Frederick Douglass and others to raise eleven African American regiments from Pennsylvania.
After the war, Catto led a campaign to desegregate Philadelphia's public transport system, and with the passage of the Fifteenth Amendment he became active in party politics. In 1871, during the the first election in which blacks could vote, he was murdered by a Democratic party operative while canvassing for Republican candidates. His death was a harbinger of a new era in race relations in which the achievement of full civil rights for African Americans would be a dream long deferred.