Frank O'Hara 1926–1966
Don Bachardy (born 1934) Graphite and ink wash on paper, 1965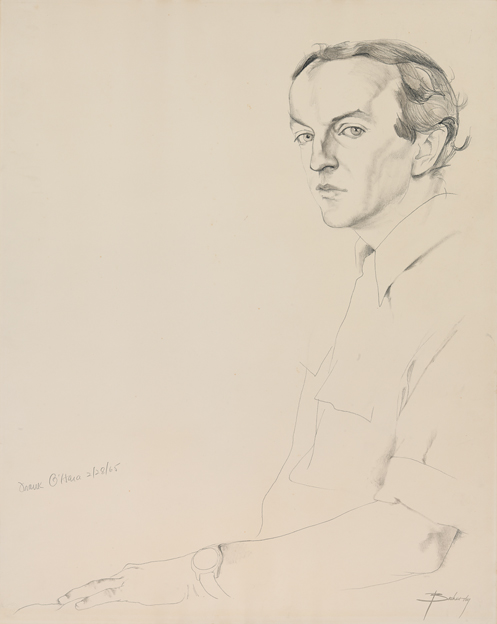 Frank O'Hara is one of the most important poets of postwar America, and his reputation has only grown since his tragic early death. O'Hara was a leading figure in making American poetry more confessional, intimate, and personal. He rejected abstraction and theoretical posturing for a direct and immediate style whose subjects were generated from his day-to-day encounters with people and places. (A curator at the Museum of Modern Art, O'Hara was known for writing a poem every lunch hour.)
His relaxed, humorous, and offhand style does not mean that he did not take his art or his subjects seriously; poems such as "The Day Lady Died" pack a punch because he interwove trivial events with the enormity of Billie Holiday's death.
O'Hara became an influential member of the New York School of both writing and painting; he was a friend and collaborator of the artist Larry Rivers, who made the memorial portrait O'Hara Reading seen in this exhibition.
O'Hara published six slim books of poetry between 1952 and 1965, but after his horribly painful death (he was hit by a dune buggy on Fire Island and died several days later), hundreds of poems were discovered in his apartment. The resulting Collected Poems (1971) won him a posthumous Pulitzer Prize and cemented O'Hara's reputation as the major poetic voice of his generation.
then I go back where I came from to 6th Avenue and the tobacconist in the Ziegfeld Theatre and casually ask for a carton of Gauloises and a carton of Picayunes, and a NEW YORK POST with her face on it and I am sweating a lot by now and thinking of leaning on the john door in the 5 SPOT while she whispered a song along the keyboard to Mal Waldron and everyone and I stopped breathing Frank O'Hara From "The Day Lady Died," 1964