Yousuf Karsh: American Portraits
May 2, 2014

-

November 2, 2014
In celebration of a major gift to its collection of more than 100 portraits created by renowned photographer Yousuf Karsh (1908–2002), this exhibition featured iconic photographs of Americans who have distinguished themselves in fields as diverse as business, medicine, entertainment, politics and the arts. Among the portraits included were those of artist Georgia O'Keeffe, physician and virologist Jonas Salk, singer Marian Anderson, actress Grace Kelly, businesswoman Elizabeth Arden, architect I. M. Pei and first lady Eleanor Roosevelt. "Yousuf Karsh: American Portraits" was the museum's first exhibition devoted entirely to the work of this internationally recognized portrait photographer, and was presented in two installations.

The curator of this exhibition was National Portrait Gallery Senior Curator of Photographs Ann Shumard.
During a career that spanned six decades, photographer Yousuf Karsh (1908–2002) created iconic portraits of many of the twentieth century's most influential men and women—individuals who distinguished themselves in fields as diverse as business, medicine, entertainment, politics, and the arts. Karsh photographed countless international figures, but his images of Americans are counted among his finest portraits. This exhibition features forty-eight black-and-white photographs including such notable Americans as artists Georgia O'Keeffe and Andy Warhol; actors Humphrey Bogart and Grace Kelly; sports figures Muhammad Ali and Jackie Robinson; business leaders Elizabeth Arden and Warren Buffett; architects Frank Lloyd Wright and I.M. Pei; first ladies Jacqueline Kennedy Onassis and Eleanor Roosevelt; and entertainment giants Walt Disney and Jim Henson, among many others.
NEWLY AVAILABLE FOR BOOKING
Yousef Karsh: American Portraits is now available for tour. For more information about bringing this show to your institution, please contact Marlene Harrison, Traveling Exhibitions Specialist, at 202-633-8287 or HarrisonMR@si.edu.  All participation fees are for domestic tours.  International venues would incur additional costs.
Exhibition Specifications
Content:
• 48 black-and-white photographs
• Digital files for all exhibition texts, title graphic design, organizer credits, and logo
• Sample ideas of Portrait Gallery educational programming
---
Support Services
• Installation and display guidelines
• Portrait Gallery courier to oversee unpacking/packing and installation/deinstallation
• Press kit, including sample press release, press images, and captions with credits
---
Space Required:
• High security
• 5 to 7 footcandles required
• 70°F ±2; RH 50% ±5%
---
Availability:
Limited to 3 venues, beginning February 2018
---
Participation Fee:
S25,000 for a 12-week booking period plus one-way shipping
Shipping:
One-way shipping via Portrait Gallery-approved professional fine art shipper with dual driver, air-ride transit
---
Download the Prospectus: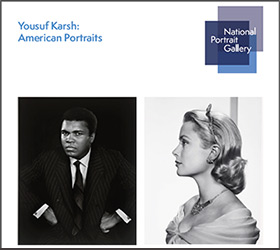 View a complete list of the portraits: