IDENTIFY: Performance Art as Portraiture
IDENTIFY: Lee Mingwei, Sonic Blossom
April 5–29,  Thursdays–Sundays,  noon–4 p.m.  |  Great Hall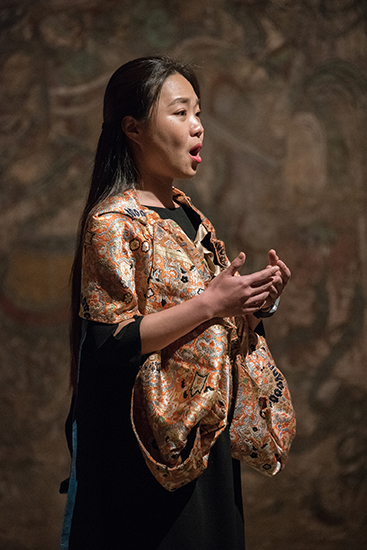 Artist Statement
I grew up in Taiwan, where summers are hot. I was a rambunctious child and would often run around in our backyard. To calm me down, my mother would play lieder by Franz Schubert at a low volume, and whenever I would ask her to turn the music up, she would say, "If you are very still and very quiet, you will be able to hear Schubert."

A few years ago, as I cared for my mother while she was recovering from surgery, I played Schubert's lieder for her, and we both found great beauty and comfort in his music. Through the singers selected for this project, I hope to share this beauty with you, the museum visitor. If offered one of these songs as a gift, please embrace the encounter and allow the experience to transform you.
Project Description
Artist Lee Mingwei's (born Taiwan, 1964) practice explores the connections between individuals. His work, which depends on trust and the willingness to engage with strangers, encourages people to discover the intimacy brought about by shared experiences.
In the participatory performance Sonic Blossom, a singer approaches a museumgoer with the question, "May I give you the gift of song?" If the gift is accepted, the two will move to the National Portrait Gallery's Great Hall where the visitor will receive the transformative gift of one of Franz Schubert's five lieder: Du bist die Ruh (D. 776), An den Mond (D. 193), Frühlingsglaube (D. 686), Nacht und Träume (D. 827), or Auf dem Wasser zu singen (D. 774). The work was originally commissioned in 2013 for the inauguration of the National Museum of Modern and Contemporary Art in South Korea.
Sonic Blossom is presented in honor of the Portrait Gallery's 50th Anniversary, as a gift to our visitors. This marks the first time that Lee's work is being presented in Washington, D.C.
IDENTIFY focuses attention on activism, visibility, and experimentation through portrayal. The series is organized by Dorothy Moss, Curator of Painting and Sculpture. This presentation of Sonic Blossom has been curated by Leslie Ureña, Associate Curator of Photographs. Project management by Kaia Black, Special Projects and Programs.
Support for the IDENTIFY series has been provided by an anonymous donor and The Skanby + Gould Foundation.  Additional support for Sonic Blossom comes from the Ministry of Culture, Republic of China (Taiwan), and from the Taiwan Academy, Taipei Economic and Cultural Representative Office in the United States.
The artist and the National Portrait Gallery wish to thank Christopher Schmitt (pianist) and the singers who are sharing their voices as part of this project: Emily Alcorn, Lauren Anderson, Emily Bell, Nate Buttram, Melissa Jean Chávez, Rebecca Henry, Blake Myles Hopkins, Sarah Markovits, Erin Ridge, Meri Siirala, Molly Pinson Simoneau, and Michael Wu.