Audio Profiles
The National Portrait Gallery is pleased to offer these audio enhancements, developed specifically for the website. Explore the collection with our curators and historians as they provide insight and analysis into portraiture, historical events and individuals. Listen to artists discuss the sources of their inspiration and working methods. These audio podcasts are available for download from our website and from Apple iTumes and will play on a personal computer or any digital music player.

All Rights Reserved. Smithsonian National Portrait Gallery Audio files may be downloaded for non-commercial, personal use only. All other uses must be pre-approved. Requests should be made in writing to NPGExhibitions@si.edu

Do you have questions about podcasting?


Read our FAQs

---


Subscribe by copying this link into your RSS reader.

Subscribe through Apple iTunes.
---






The exhibition, "Eye Contact" was on view at the National Portrait Gallery from July through October, 2006. Curator Wendy Wick Reaves provides her personal reflections on selected portraits from the exhibition.


[View and listen to all 19 episodes]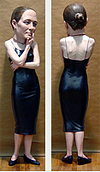 The innaugural installation of the exhibition series called "Portraiture Now" provided a cross-section of current innovations in portraiture through its presentation of the work of five artists. This first exhibition was held from July 4, 2006 through January 7, 2007.


Dawoud Bey [2 episodes]


Nina Levy [2 episodes]


William Beckman [3 episodes]


Andres Serrano [3 episodes]


Jason Salavon [2 episodes]









In 2006 the Gallery welcomed portraiture into the 21st century with its first-ever Outwin Boochever Portrait Competition. Several entrants to the competition agreed to be part of the Audio Profiles project. These artists represent different stations of life, career, and geography, and express a variety of approaches to portraiture and artistic practice.


Introduction by Brandon Fortune


Burton Philip Silverman [2 episodes]


Steve DeFrank [2 episodes]


Sharon Sprung








Syndicated political cartoonist, Patrick "Pat" Oliphant, discusses his portrait sculpture in the collection of National Portrait Gallery. This particular series of small sculptures was based on his caricatures of American presidents.


Introduction by Pat Oliphant


Richard Nixon


Gerald Ford


Jimmy Carter


George H.W. Bush




PURCHASE GALLERY BOOKS AND CATALOGS
View the Gallery's extensive collection of books and exhibition catalogs. Publications are available through the National Portrait Gallery or the respective publishers.
View publications list


---