Mark Twain: Cat Dad Extraordinaire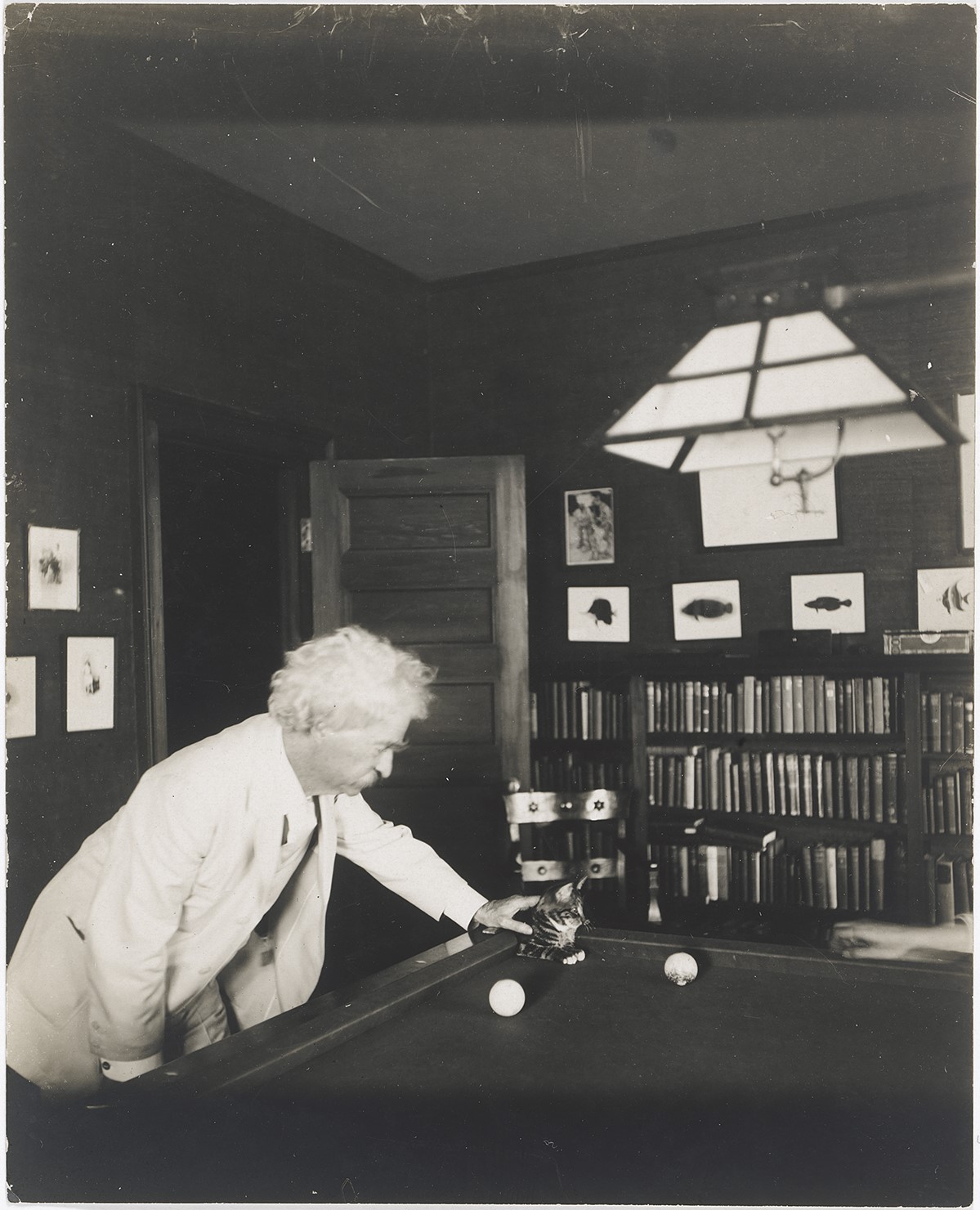 "When a man loves cats, I am his friend and comrade, without further introduction."
-Mark Twain
Perhaps, it will come as no surprise to learn that the satirical writer and humorist Samuel Langhorne Clemens, better known as Mark Twain, adored cats. He was so fond of them, in fact, that he reportedly had between eleven and thirty-two feline companions. (Bambino and Sour Mash were two of his favorites.) While on vacation, Twain even went so far as to rent multiple kittens to compensate for his temporary lack of cats (an excellent idea).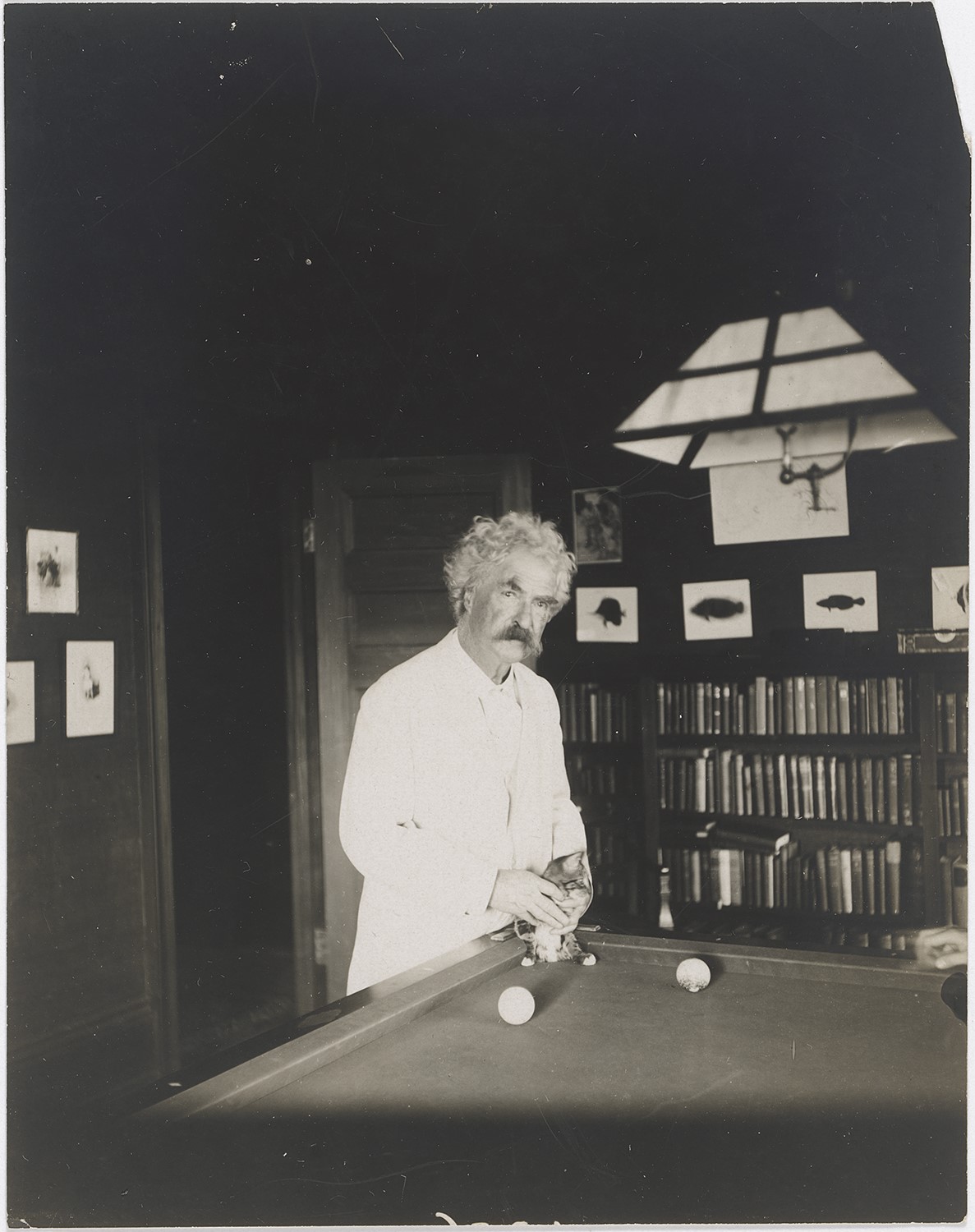 Twain, however, did not rent the kitten pictured above. In a letter from 1908, Twain describes one of his kittens who shared his love for billiards:
"One of them likes to be crammed into a corner-pocket of the billiard table—which he fits as snugly as does a finger in a glove, and then he watches the game (& obstructs it) by the hour, & spoils many a shot by putting out his paw & changing the direction of a passing ball."
The photographer of the images above, Albert Bigelow Paine, was Twain's biographer who wrote four books on the author. Prior to publishing Mark Twain: A Biography (1912), Paine lived with the Clemens family for a while after 1906, during which time he became intimately involved in their household. During those years, the last of of Twain's life, he granted Paine access to his papers, offering him insight into his life that comes across in Mark Twain: A Biography, wherein Paine writes:
"He had indeed a genuine passion for cats; summers when he went to the farm he never failed to take his cat in a basket. When he ate, it sat in a chair beside him at the table."
Twain's affection for felines is also evident in his own writing. Cats make cameos in some of his most famous works, such as The Adventures of Tom Sawyer. The tale of Peter the cat, who receives a painkiller from Tom in the novel, is a true story from Twain's childhood. The posthumous publication of Concerning Cats: Two Tales by Mark Twain (1959) came out long after the author's death in 1910. The book features two tales about cats, which he had told his daughters to lull them to sleep.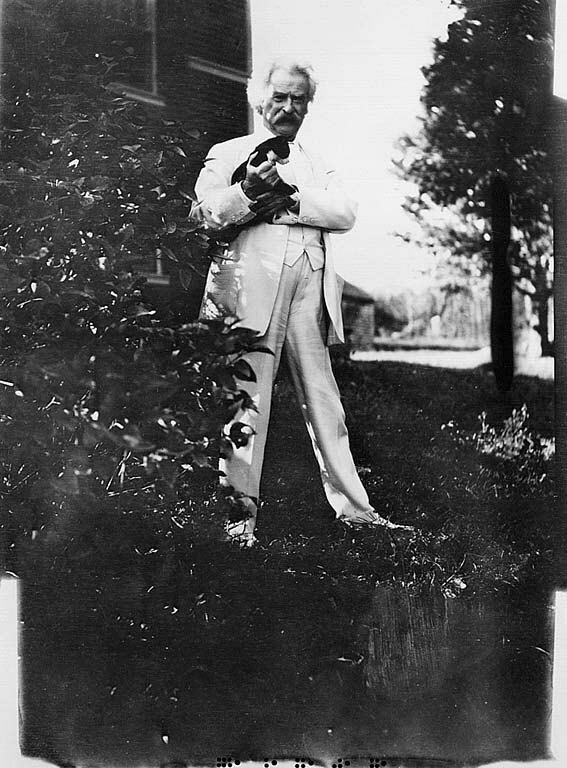 To surround yourself with as many (or more!) cats as Mark Twain, visit Before Internet Cats: Feline Finds from the Archives of American Art in the Lawrence A. Fleischman Gallery at the Donald W. Reynolds Center. The exhibition from The Archives of American Art explores cats through rare documents, including letters, sketches, drawings, and photographs from the nineteenth and early twentieth centuries. After viewing the display, you can head across the hall to find a portrait of Mark Twain by John White Alexander.