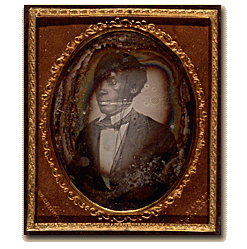 Stephen Allen Benson (1816-1865)
Born in Maryland, Stephen Benson was only six years old when he immigrated with his family to Liberia in 1822. Soon after the Bensons arrived, indigenous tribesmen attacked their settlement. Stephen and several siblings were held captive for several months until the ACS agent secured their freedom. Upon his release, Benson rejoined his family and began his schooling. In 1835, service with the militia took him to Grand Bassa County; Benson remained there, engaging in trade as well as agriculture.
Benson was first elected to public office in 1842, winning a seat on the Colonial Council. After Liberia gained its independence in 1847, he served as a judge until his election as Vice President in 1853. When President Joseph Jenkins Roberts declined to seek a fifth term in 1855, Benson was elected to succeed him. During his four-term presidency, Liberia saw an expansion of both its internal and external trade and, in 1862, welcomed long-awaited diplomatic recognition by the United States. The first Liberian President to speak several native languages, Benson favored a progressive policy toward Liberia's indigenous peoples; regrettably, this policy remained largely unimplemented. Leaving office at the close of 1863, Benson returned to his coffee plantation in Grand Bassa County, where he died in 1865.
This portrait was probably made during Washington's first year in Liberia. The discoloration that now partially obscures the image is primarily the result of tarnish.
---
Augustus Washington
Sixth-plate daguerreotype, circa 1854
Image courtesy Prints and Photographs Division
Library of Congress, Washington, D.C.