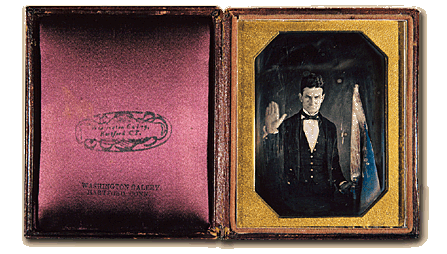 John Brown (1800-1859)

The earliest known portrait of radical abolitionist John Brown, this daguerreotype may also be the earliest surviving product of Washington's Hartford studio. Dating from 1846 or 1847, it depicts Brown during his brief tenure as a wool broker in Springfield, Massachusetts.

Brown was already an abolitionist by 1846, but once in Springfield his activism increased. He avidly read abolitionist literature emanating from Boston, frequented antislavery meetings, and became well acquainted with many free blacks residing nearby. At this time, more than a decade before his ill-fated raid on the federal arsenal at Harpers Ferry, Brown began formulating plans for his "Subterranean Pass Way." This unrealized scheme called for establishing clandestine bases in the Allegheny Mountains from which armed parties could attack slaveholders' property and provide cover to fugitive slaves as they traveled north. In this portrait, Brown stands with one hand raised, as if repeating the pledge he had made several years earlier to dedicate his life to the destruction of slavery. With his other hand, he grasps what is thought to be the standard of his "Subterranean Pass Way." It is not known how Washington came to daguerreotype Brown, but given the proximity between Hartford and Springfield, it is not surprising that these two abolitionists made a connection.
---

Augustus Washington
Quarter-plate daguerreotype, circa 1846/1847
National Portrait Gallery, Smithsonian Institution, Washington, D.C.; purchased with major acquisition funds and with funds donated by Betty Adler Schermer in honor of her great-grandfather, August M. Bondi