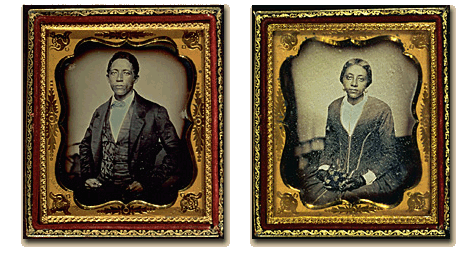 Urias Africanus McGill (circa 1823-1866)

The freeborn son of George R. and Angelina McGill of Baltimore, Urias McGill was eight years old when he immigrated to Liberia with his parents and siblings aboard the Reaper. Although Mrs. McGill died shortly after the family's arrival in Monrovia in February 1831, her husband and children survived. Several members of the family settled at Cape Palmas, while George McGill remained in Monrovia with sons James and Urias. A Methodist clergyman and teacher by profession, the elder McGill joined the ranks of Liberia's prosperous merchants, and in time his four sons followed his lead. By the early 1850s, Urias and James had formed a successful partnership under the name of Urias A. McGill & Brother, and in 1854 they were joined by brothers Samuel and R. S. McGill to create the larger trading concern of McGill Brothers. Embracing both transatlantic and African coastal trade, as well as a thriving commission business with numerous stores and warehouses, the McGill Brothers firm played a principal role in Liberia's early commercial history and earned a handsome fortune for its partners.

Augustus Washington's portrait of Urias McGill is believed to date from 1854, the year in which the McGill Brothers partnership was formed.
---

Unidentified woman

The identity of the woman pictured in this daguerreotype has not been established. It is reasonable to assume that she was connected in some way with the McGill family, and may have been Urias McGill's wife.

Augustus Washington posed this young woman much as he posed a number of his Hartford subjects. Like the women in his earlier portraits, she holds a daguerreotype case in her lap. It is interesting to note that in this instance, the case she displays is identical to that used to house both her portrait and that of Urias McGill.
---

Sixth-plate daguerreotypes, circa 1854
Note: Both daguerreotypes housed together in a double-sided case.
Image courtesy Prints and Photographs Division
Library of Congress, Washington, D.C.