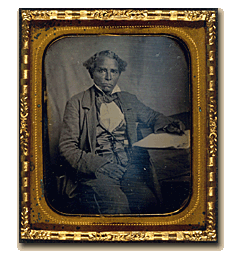 Edward Morris born circa 1802
Born in slavery, Edward Morris emigrated from Mississippi to Liberia in 1838 and took up residence in Sinoe, the new settlement established by the Mississippi State Colonization Society (an auxiliary of the ACS) as a destination for former slaves from that state. Morris followed the example of other early settlers in Liberia and soon made trade his principal occupation. By 1843, he was the owner of two warehouses and was counted among the successful members of the colony's merchant class. When Liberia declared its independence from the ACS in 1847, Morris was among the first elected to the legislature of the new republic, where he represented Sinoe County. He served several terms as a member of the Liberian Senate and later held office as superintendent of Sinoe County (1857-1861), in which capacity he governed that county and was responsible directly to Liberia's President.
It was while serving his final term as one of two senators from Sinoe County that Edward Morris sat for this daguerreotype portrait.
---

Attributed toAugustus Washington
Sixth-plate daguerreotype, circa 1857
Image courtesy Prints and Photographs Division
Library of Congress, Washington, D.C.
Click here to view the Liberian Senate watercolor.