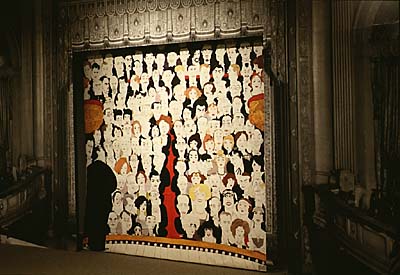 Ralph Barton's caricature curtain, an intermission feature for the popular "Chauve-Souris" musical revue, provided one of the great sensations of the 1922 theatrical season. As the huge curtain descended, the assembled crowd found itself confronting another audience of 139 fashionable "first nighters," all staring back. "The effect was electrifying," recalled caricaturist Aline Fruhauf, "and the applause was great." The color reproduction in the program provided a permanent souvenir for those flattered at being included. Barton had portrayed New York's café society in microcosm, carefully calibrating his mix of theater, press, and social celebrities. The frontal viewpoint put the assembled viewers on the stage, reversing the roles of actors and audience. An opening night, everyone knew, took place on both sides of the curtain; those in the seats were not only part of the audience but part of the show, participants in the larger drama of a developing urban culture. But the curtain also suggested that the artist himself viewed the scene from the boards, functioning as both the observer and the observed, a prominent performer as well as a detached onlooker.

Ralph Barton theater curtain
Ralph Barton (1891-1931)
1922
National Portrait Gallery, Smithsonian Institution
Gift of Bruce Kellner


NEXT portrait
BACK to "Stage Folk"


---
Past Exhibitions | National Portrait Gallery Home