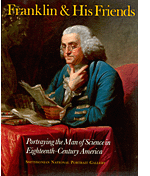 Franklin & His Friends: Portraying the Man of Science in Eighteenth-Century America

by Brandon Brame Fortune with Deborah J Warner
178 pages, 54 color and 89 halftone illustrations
Published by the Smithsonian Institution,
National Portrait Gallery
in association with University of Pennsylvania Press
ISBN 0-8122-1701-2 / Softcover: $34.95
Available at the NPG Museum Shop
Ph: (202) 357-1447

---
Portraits, like the printed texts and manuscript documents more conventionally used by historians, can serve as historical evidence. They are central to our understanding of the social construction of personal identity--of how people presented themselves in a social context.

Franklin & His Friends takes a new, cross-disciplinary look at early American science through the lens of portraiture. Portraits by such accomplished American painters as Gilbert Stuart, John Singleton Copley, and Charles Willson Peale tell a unique story through imagery that defines not only likeness but also contructs the identity of the subject as a member of the larger community of science.

Anchored by the figure--and portraits--of Benjanime Franklin (1706-1790), whose scientific reputation was universal within the Western republic of letters, this book also encompasses his scientific colleagues, many of whom were his friends. Many of Franklin's countrymen, some well known to us and others shrouded in obscurity, shared his delight in scientific knowledge and experiments, and like Franklin, worked with artists to create portraits that clearly reveal their scientific interests.

The authors examine the original context and reception of these portraits, and contend that they situate each subject within his local community as well as across cultural, economic, and geographical countries to fix him within the international community of science. The last section of the book highlights images of men of science created after the American Revolution, and explores the connections expressed in portraiture between science and the developing culture of the United States. This book will accompany an exhibition of the same title at the National Portrait Gallery in Washington, D.C., in 1999.


Brandon Brame Fortune is Assistant Curator of Painting and Sculpture at the National Portrait Gallery

Deborah J. Warner is Curator, Division of Science, Medicine, and Society, at the National Museum of American History.






---
Past Exhibitions | National Portrait Gallery Home