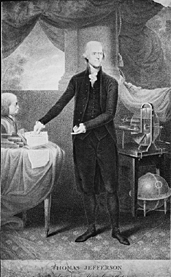 Thomas Jefferson 1743-1826
Cornelius Tiebout (circa 1773-1832)
Stipple engraving, 1801
Courtesy American Philosophical Society
Philadelphia, Pennsylvania


---
Since his student days at the College of William and Mary, Jefferson had been interested in natural history (including botany, geology, and paleontology), mathematics, and astronomy, surveying, cartography, and mechanical invention. Jefferson succeeded David Rittenhouse as president of the American Philosophical Society in 1796, and retained the office during his presidency. Although his political enemies ridiculed his fascination with prehistoric bones and theories about the formation of the earth, some of his supporters lauded his association with science.

In 1805, ornithologist Alexander Wilson praised Jefferson as the "enlightened philosopher the distinguished naturalist the first statesman on earth, the friend, the ornament of science." In addition, several images of Jefferson meant for public consumption linked him with science, including this engraving, published in Philadelphia on July 4, 1801. Jefferson's likeness is derived from a life portrait made by Rembrandt Peale. Tiebout's print was meant to be the same size as a recent full length engraving of George Washington after Gilbert Stuart's portrait. Instead of the attributes included by Stuart, Tiebout has introduced a copy of the Declaration of Independence, a bust of Franklin, a globe, and a single-disc electrostatic generator. Jefferson owned a similar electrical machine, but the instruments pictured in the engraving may have been the property of the American Philosophical Society.


---
Title image: Culpeper-type microscope/ Courtesy National Museum of American History, Smithsonian Institution, Washington, D.C.