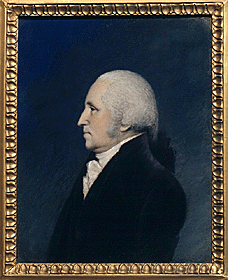 George Washington
James Sharples (1751/1752-1811)
Pastel on paper, circa 1796
24.1 x 17.8 cm (9 1/2 x 7 in.)
National Portrait Gallery, Smithsonian Institution
Washington, D.C.


---
Two of the last portraits made of the Washingtons were profiles, made in 1796 or 1797. The artist, English painter and pastelist James Sharples, came to the United States in the mid-1790s with his wife Ellen and his three youngest children. Sharples drew the outlines of the portraits with a mechanical instrument, which ensured physiognomic accuracy. As G.W.P. Custis later wrote, it was "an admirable likeness, the profile taken by an instrument, and critically correct." This example is one of about thirty duplicates made by the artist or his wife, who was also his pupil. Some of the portraits were advertised for public sale. Framed with this example is an inscription by Eliza Parke Custis: "This is an Original Portrait of Genl Washington taken in 1797—it was painted by Mr. Sharpless & is an exact likeness except the complexion Genl Washington was very fair with light brown almost auburn hair—he had not a black beard. He had artificial teeth but so well fixed, that they did not disfigure his mouth—his hair was thin, craped & dress with powder & pomatum as this profile." Sharples also drew several portraits of Washington in a three-quarter pose.