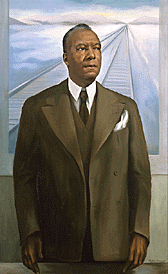 Asa P. Randolph
Betsy Graves Reyneau
Oil on canvas, 1944
National Portrait Gallery

Many civil rights activists dismissed Asa Philip Randolph in his later years as too conservative in his approach to breaking down the barriers of racial segregation. But as a black labor organizer and pioneer of the twentieth-century civil rights movement, his militancy once led his opponents to regard him as the most dangerous Negro in America. Though negative, that characterization reflected the tremendous impact Randolph had in reshaping this country's racial relationships.

In 1917, Randolph founded the militant and revolutionary magazine The Messenger, which was dedicated to the principles of labor unionism and socialism among blacks. By the mid-1920s, however, Randolph realized that African Americans were not going to be easily converted to socialism, and he began to channel his energies into trade-union organizing. In 1925 he organized the Brotherhood of Sleeping Car Porters, the first black union granted a charter by the American Federation of Labor. Randolph and his publication became catalysts for the integration of American labor, and played a decisive role in pressing for the establishment in 1941 of the Fair Employment Practices Committee, the first federal effort to eliminate racial discrimination from the workplace.