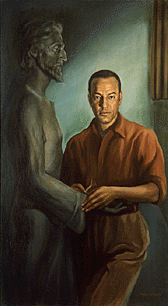 Richmond Barthe
Betsey Graves Reyneau
Oil on canvas, 1946
National Portrait Gallery

During the 1930s and 1940s, Richmond Barthe was the most widely exhibited and honored of the artists associated with the foundation. Throughout his career, Barthe maintained special interests in racial themes, portraiture, the theater, and religion.

Reyneau painted Barthe working on one of his religious sculptures, The Christ. For more than a year, Barthe had worked intermittently on this figure. He hoped to portray a sculpted figure of a universal Christone that will depict the ideals of Jews, Christians, Whites, Negroes, and all races and nationalities. Upon its completion, Barthe's work was erected in an African American church in Montgomery, Alabama. The church received the sculpture favorably and anticipated that it would wield tremendous social influence. Pittsburgh Courier columnist Ted Le Berthon wrote of the statue, His significance, in this Stone summoning of His spirit, is that He will Make anyone feel inferior. Whites who think of themselves as racially superior to Negroes will, I suspect, see Him and come away unable to feel superior to anyone.

Mary Beattie Brady, an avid supporter of Barthe and his work, had planned to debut Reyneau's portrait of him when the collection was shown at the Chicago Historical Society. Reyneau did not complete the portrait in time, however, and it debuted at another venue.