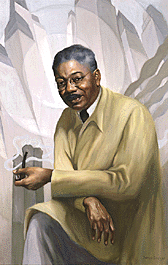 Aaron Douglas
Betsy Graves Reyneau
Oil on canvas, 1953
National Portrait Gallery

A major artist of the Harlem Renaissance movement, Aaron Douglas moved to New York from his native Kansas, feeling himself drawn to Harlem by newspaper articles reporting the flowering of black cultural awareness. There he met and studied with the German artist Winold Reiss, who encouraged him to celebrate his racial heritage and introduce African motifs and themes into his paintings.

Considered by many historians to be the father of black American art, Douglas was a frequent contributor to The Crisis magazine and was the only African American artist featured in Alain Locke's classic anthology of black writers,The New Negro (1925). Douglas is best remembered for his illustrative collaboration with author James Weldon Johnson in his book of poetry, God's Trombones: Seven Negro Sermons in Verse.

Reyneau painted Douglas's portrait in front of "Song of the Towers," the last in a series of four murals Douglas had painted in 1934, under the sponsorship of the Works Progress Administration. The series traces African Americans' history from their origins in Africa, through slavery, emancipation, and the great migration from the rural South to the industrialized, urban North. "Song of the Towers" addresses African Americans' entry into the northern cities.