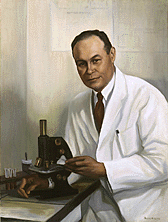 Charles Drew
Betsy Graves Reyneau
Oil on canvas, c.1953
National Portrait Gallery

Charles Drew began his pioneering work with blood plasma during his tenure as the first black surgical resident at the Presbyterian Hospital in New York City. Because of his concern about the difficulties involved in transporting and correctly matching highly perishable blood, Drew took the preservation of blood's properties and the uses of plasma in postoperative work as his field of research.

In 1940, Drew received a cablegram from Dr. John Beattie, then director of the research laboratories of the Royal College of Surgeons in London, asking him to secure five thousand ampules of dried plasma for transfusion, to be used for the ever-increasing numbers of wounded British citizens and soldiers. Within a short time, Drew had organized the Blood Transfusion Association to send plasma to Britain, and the crisis in war-torn England's hospitals was averted. A year later, Drew became medical director of the American Red Cross's blood-donor project, and it was largely thanks to his expertise that so many lives were saved during World War II.

Drew left the Red Cross shortly after the organization ordered that all non-Caucasian blood be stored separately, and he returned to his former teaching position at Howard University and Freedmen's Hospital. In 1944, Drew received the NAACP's Spingarn Medal for his work on the British and American blood and plasma projects. On April 1, 1950, while on his way to a medical conference at Tuskegee, Drew was killed in an automobile accident in North Carolina.

The Harmon Foundation commissioned two portraits of Drew from Reyneau during the exhibition's tour. A portrait, created from life in 1944, was purchased by Chicago physician Theodore Lawless. It was donated to the National Red Cross in 1959, in Drew's memory. The Harmon Foundation then commissioned this portrait as a replacement, which Reyneau created posthumously from a photograph taken by Washington photographer Robert S. Scurlock in the late 1940s.