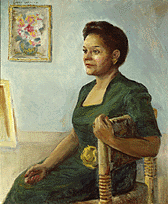 Jessie Fauset
Laura Wheeler Waring
Oil on canvas, 1945
National Portrait Gallery

Jessie Fauset, the most published novelist of the Harlem Renaissance, was living in retirement in Montclair, New Jersey, when Laura Wheeler Waring painted her portrait for the Harmon collection. Her four books, There Is Confusion (1924), Plumb Bun (1929), The Chinaberry Tree (1931), and Comedy: American Style (1933), exposed Americans to a great group of Negroes of education and substance who are living lives of quiet interests and pursuits.

The daughter of an African Methodist Episcopal minister, Fauset grew up in Philadelphia and graduated from Cornell University in 1905. She received a master's degree in French from the University of Pennsylvania and went on to study at the Sorbonne. For fourteen years she taught French and Latin at what became Dunbar High School in the District of Columbia. From 1919 to 1926, Fauset was the indispensable associate of W.E.B. Du Bois in the publication of the NAACP magazine "The Crisis." Persuading Du Bois that creative writing could be a source of racial uplift, Fauset cultivated the talents of young poets and novelists. Langston Hughes considered her to be one of three persons who midwifed the so-called New Negro literature into being.

Laura Wheeler Waring and Fauset were old friends when she painted Fauset's portrait for the Harmon Foundation. Both native Philadelphians, Waring and Fauset became closely associated in Paris in 1914. It may have been their long friendship that influenced the Harmon Foundation to include Fauset in its portrait collection, as her celebrity, which had reached its apex during the Harlem Renaissance, had significantly declined by the mid-1940s.