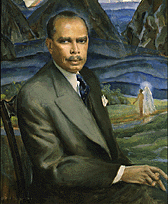 James Weldon Johnson
Laura Wheeler Waring
Oil on canvas, 1943
National Portrait Gallery

The author of "Lift Every Voice and Sing" (often called "the Negro National Anthem"), James Weldon Johnson had a long career as a creative writer, black leader, teacher, lawyer, diplomat, and executive secretary of the National Association for the Advancement of Colored People. Through his writing he protested racial injustice, encouraged black achievement, and added immeasurably to the wealth of American literary art.

A native of Jacksonville, Florida, Johnson attended Atlanta University through graduate school. In 1901 he became the first African American admitted to the Florida Bar, but he did not re-main in Florida very long. Forming a creative partnership with his younger brother Rosamond, a writer of popular music, he began to write lyrics. They moved to New York and found fame as the ragtime songwriting team of Cole and Johnson Brothers.

While in New York, Johnson befriended Charles Anderson, a black Republican leader and confidant of Booker T. Washington. In 1906, through this connection, Johnson was appointed United States consul to Venezuela and subsequently to the same post in Nicaragua. During these six years, he wrote and published The Autobiography of an Ex-Colored Man (1912). He then wrote the column "Views and Reviews" for the black weekly paper the New York Age, addressing such issues as residential segregation, lynching, and the necessity of racial pride.

In 1916, Joel Spingarn, chairman of the NAACP, asked Johnson to serve as a field secretary for the seven-year-old organization. In four years Johnson helped increase the NAACP membership from 9,000 to approximately 90,000. Johnson in turn was appointed head of the NAACP in 1920, and for the next ten years he led the organization in its fight for racial equality. In 1930 he retired and spent the eight remaining years of his life writing and teaching.

Waring's unique background, in her posthumous portrait of Johnson, recalls the imagery in Creation, the bestknown and most often recited of the poems in his most famous literary work, God's Trombones: Seven Negro Sermons in Verse (1927).