An interpreter of black cultural achievements, Alain Locke s recognized as the authority on his race's contributions to the humanities. A Harvard Phi Beta Kappa graduate and the first black Rhodes Scholar at Oxford University, he also studied in Germany before returning to Harvard to earn his Ph.D. in 1918.

Locke had his greatest impact upon African American culture during his tenure at Howard University. He conveyed to his students the value of the fine arts. He started a drama group, the Howard Players, and a literary magazine, the Stylus. Locke's influence gained national attention in 1925 when he edited the now-classic The New Negro, an anthology of African American writings that aimed "to document the New Negro culturally and socially■to register the transformations of the inner and outer life of the Negro in America that have so significantly taken place in the last few years."

Throughout his life, Locke grappled with the issue of how African Americans could achieve full social integration without sacrificing their own cultural legacy. At the time of his death, he was preparing a major work, The Negro in American Culture. Locke served as an adviser to the Harmon Foundation, assisting in identifying subjects for its portrait collection and outlining strategies for promoting the collection's exhibition. Betsy Graves Reyneau met with Locke on several occasions, but this portrait was based on a photograph. According to Mary Beattie Brady, director of the Harmon Foundation, Locke was purposefully depicted in his "Oxford jacket" to represent him as a quiet, dignified scholar.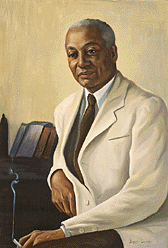 Alain Locke
Betsey Graves Reyneau
Oil on canvas, c.1943-44
National Portrait Gallery