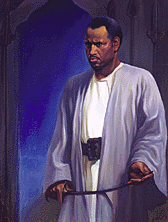 Paul Robeson
Betsy Graves Reyneau
Oil on canvas, 1943-44
National Portrait Gallery

A singer, actor, athlete, orator, and linguist, Paul Robeson was a man blessed with immense talent and intelligence. Educated at Rutgers and Columbia Law School, he began practicing law in 1923. His theatrical talents were so impressive that while he was still at Columbia, he was offered the lead role in the professional production of Taboo. After playing the lead in Eugene O'Neill's The Emperor Jones in 1924, his short career as a lawyer ended.

Betsy Graves Reyneau's portrait of Robeson portrays him in one of his greatest roles, that of Shakespeare's Othello. But his resentment of racial discrimination eventually led him into affiliations that many equated with Communism. As a result, during the militantly anti-Communist crusade that overtook this country following World War II, he was bitterly denounced, and his career came largely to an end. Even this portrait became an object of indignation. When the picture arrived in Boston in 1950, the mayor ordered it barred from the show.

That same year, after Robeson's passport was revoked by the State Department, the Harmon Foundation succumbed to public pressure and permanently removed the Robeson portrait from the exhibition. Director Mary Beattie Brady said, "I hope the time will come when it will be practical to again emphasize Mr. Robeson's achievements as a singer and an actor, and if later events prove him to be a true patriot of this country . . . the portrait will be available. . . . My decision is based on the fundamental purpose of the exhibit which was to reflect American leadership of the highest type in terms of Americans of Negro Ancestry."

Unfortunately, the exhibition was dismantled in 1954, four years before the State Department, under worldwide pressure and protest and following a Supreme Court ruling, returned Robeson's passport.