From his student days at the Polytechnic High School in Los Angeles, Paul Williams aspired to be an architect, but was told "Who ever heard of a Negro architect?" Williams afterward related that he found his race to be "an incentive to personal accomplishment, an inspiring challenge. Without having the wish to 'show them,' I developed a fierce desire to 'show myself.'"

Williams worked his way through the University of California by teaching art until he became a certified architect in 1915. He continued his studies at the Los Angeles School of Art and Design and the Beaux Arts Institute of Design in New York. Following graduation, Williams searched through the Los Angeles telephone book until he found an architectural firm willing to take on a black draftsman. Williams worked for large architectural firms until he gained sufficient experience in all branches of his profession to open his own office.

Williams's firm took on projects both large and small, working in a variety of architectural styles. Much of his firm's work was residential. Williams not only designed mansions for film stars such as Lon Chaney, Lucille Ball, and Tyrone Power, but also planned thousands of small houses in developments throughout California and Nevada. He wrote about his interest in attractive and comfortable housing for lower-income groups in two publications, Small Homes for Tomorrow and New Homes for Today. Williams served on the Los Angeles City Planning Commission and the city's Municipal Housing Commission. Many of Williams's best-known works were commercial or public. He assisted in the design for the Los Angeles International Airport and the Los Angeles County Courthouse, and was the architect for a number of department stores, hotels, and churches in California and Nevada.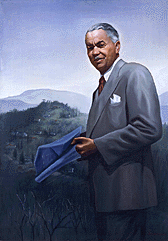 Paul Williams
Betsey Graves Reyneau
Oil on canvas, c.1948
National Portrait Gallery