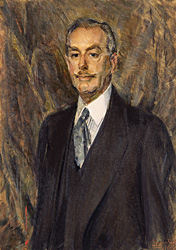 Dean Acheson was the consummate statesman of his time; he looked and played the role to perfection. In 1946, from his State Department office in Washington, he facilitated George Marshall's negotiations in China. The following year, when Marshall became secretary, Acheson, as undersecretary, administered the department and implemented its reorganization. A month before Marshall made his historic speech at Harvard, Acheson gave a preliminary aid-to-Europe address at a state teachers' college in Mississippi. Lacking his boss's reputation and stature, Acheson was largely ignored or criticized; Senator Arthur Vandenberg objected to his commitment of taxpayers' dollars without congressional approval. Acheson, nevertheless, proved to be one of the Marshall Plan's staunchest supporters. As secretary of state between 1949 and 1953, he was a principal architect of America's foreign policy at the start of the Cold War. This portrait is a replica made by the artist after a life sitting in 1950. Acheson's former law firm, Covington and Burling, donated it to the National Portrait Gallery in 1974.
---
Dean Acheson, 1893-1971
Gardiner Cox (1906-1988)
Oil on canvas, 88.9 x 63.5 cm.
(35 x 25 in.), 1974
National Portrait Gallery, Smithsonian Institution
Gift of Covington and Burling
NEXT portrait
BACK to "George C. Marshall: Soldier of Peace"


---
Past Exhibitions | National Portrait Gallery Home