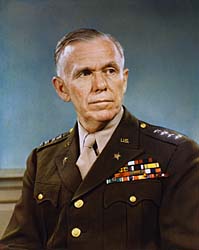 This photograph of General Marshall was taken by Harry Warnecke, a pioneer of color photography. Warnecke was a staff photographer for the New York Daily News. The paper published a special Sunday picture section in which it began introducing color images. Warnecke suggested using color portraits on the covers and built a special color-separation camera to produce them. At the time of Marshall's sitting, in 1944, Warnecke's studio at the Daily News was attracting celebrities of every description--soldiers, statesmen, and movie stars alike.
---
George C. Marshall
Harry Warnecke (1900-1984)
Color carbo print, 40 x 32.9 cm.
(16 1/16 x 12 15/16 in.), 1944
National Portrait Gallery, Smithsonian Institution

NEXT portrait
BACK to "George C. Marshall: Soldier of Peace"
---
Past Exhibitions | National Portrait Gallery Home