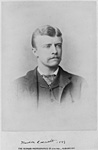 Theodore Roosevelt was born on October 27, 1858, in a brownstone house on Twentieth Street in New York City. A re-creation of the original dwelling, now operated by the National Park Service, replicates the tranquility of Roosevelt's earliest years. His father, Theodore Roosevelt Sr., was a prosperous glassware merchant, and was one of the wealthy old Knickerbocker class, whose Dutch ancestors had been living on Manhattan Island since the 1640s. His mother, Martha Bulloch, was reputedly one of the loveliest girls to have been born in antebellum Georgia. Together the parents instilled in their eldest son a strong sense of family loyalty and civic duty, values that Roosevelt would himself practice, and would preach from the bully pulpit all of his adult life.

Unfortunately the affluence to which the young Theodore grew accustomed could do little to improve the state of his fragile health. He was a sickly, underweight child, hindered by poor eyesight. Far worse, however, were the life threatening attacks of asthma he had to endure until early adulthood. To strengthen his constitution, he lifted dumbbells and exercised in a room of the house converted into a gymnasium. He took boxing lessons to defend himself and to test his competitive spirit. From an early age he never lacked energy or the will to improve himself physically and mentally. He was a voracious reader and writer; his childhood diaries reveal much about his interests and the quality of his expanding mind. Natural science, ornithology, and hunting were early hobbies of his, which became lifelong.

In the fall of 1876, Roosevelt entered Harvard University. By the time he graduated magna cum laude, he was engaged to be married to a beautiful young lady named Alice Lee.

The wedding took place on Roosevelt's twenty-second birthday. Amid the intense happiness he experienced during his first year of marriage, he laid the foundations of his historic public career. "I rose like a rocket," he said years later. Ironically, when he chartered his own path for public office--the White House in 1912--he failed bitterly. When others had selected him--as they did for the New York Assembly in 1881, for the governorship in 1898, and for the vice presidency in 1900--his election was almost a foregone conclusion. Politics aside, Roosevelt shaped and molded his life as much as any person could possibly do. He could not control fate, however. On Valentine's Day, 1884, his mother died of typhoid fever and his wife died of Bright's disease, two days after giving birth to a daughter, Alice Lee. Amidst this personal trauma, Theodore Roosevelt was on the verge of becoming a national presence.


---
Past Exhibitions | National Portrait Gallery Home