In 1953, Sorel founded Push Pin Studios with fellow Cooper Union classmates Milton Glaser and Seymour Chwast. Their innovative designs attracted international attention.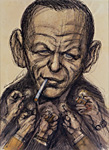 But Sorel chafed at the restrictions of stylized design and soon departed to work on his own. Searching for a more narrative and personal approach, he developed a free, gestural style of overlapping pen lines heightened by color. "I realized that I could not tell a story," he noted, "could not show these details of costume, expression, or movement...unless I forgot all about style or manner and concentrated on telling a story in pictures."

In the 1960s, Sorel's growing frustration with Cold War politics and the Vietnam War found voice in polemical satire. "Essentially, my cartoons are a kind of therapy," he has claimed, "to keep myself from going crazy at the insanity and injustice of the world." Passionately antiauthoritarian, he aimed at targets ranging from J. Edgar Hoover and Cardinal Spellman to the American presidency. In the 1960s, he became art director for the political journal Monocle and contributed to the left-wing magazine Ramparts. Many of his satires appeared in the Village Voice and New York magazine, where he was listed as a contributing editor. Eventually, he learned to process raw anger into indignant, scintillating wit, honed for mainstream publications. "Unadulterated rage," he pointed out, "does not go well with four-color advertisements for Cadillac cars."

---
Past Exhibitions | National Portrait Gallery Home