Current Exhibition
"Out of Many, One" by Jorge Rodriquez-Gerada
October 1 through October 31, 2014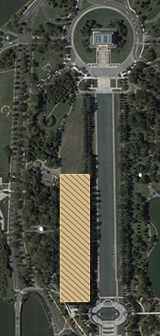 A grand landscape portrait from Cuban American urban artist Jorge Rodríguez-Gerada will be placed temporarily on the National Mall from October 1 through October 31. "Out of Many, One," the English translation of E pluribus unum, will stretch across 6 acres of land midway between the World War II and Lincoln memorials along the south side of the Reflecting Pool. The work is a composite portrait of several people photographed in Washington, D.C. The contrast in the face will be created from dirt and sand. The portrait will not only be an interactive walk-through experience for visitors but will also be viewable from the newly reopened Washington Monument and from space.
The National Portrait Gallery presents "Out of Many, One," by Rodríguez-Gerada in partnership with the Trust for the National Mall and the National Park Service. The work will come together in large part due to a group of in-kind donors, including Clark Construction, Chaney Enterprises, The Bulldog Group, Alvin Hatcher Group and Topcon, with consulting assistance from Terry Stancill.






smithsonian institution

| privacy | copyright | sitemap | npg home




Museum Floorplan

View the museum's new exhibition spaces and layout.



Gallery Floorplan


View Floorplan (PDF)