The arrival of the Friendship in England
Underwood & Underwood (active 1880–c. 1950)

Gelatin silver print, 1928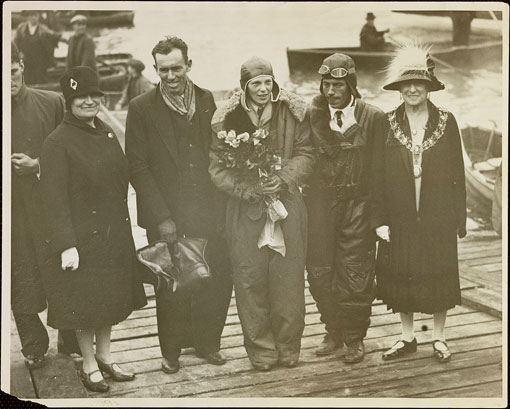 By 1928 Earhart was living in Boston, where she worked at a settlement house for immigrants. She continued to fly on weekends and also served as a sales representative for Kinner aircraft.
That April she received a telephone call that would change her life forever. Amy Guest (1873–1959), a wealthy American who lived in England, had recently bought a trimotor plane that she named the Friendship and wished to underwrite a transatlantic flight. Charles Lindbergh had completed the first solo flight across the Atlantic a year earlier, and Guest wanted to see a woman make headlines for a similar feat.
Guest was going to make the trip herself until her family objected because of the risk. Instead, she offered the opportunity to Earhart. This photograph was taken in Southampton, England, after the successful completion of that flight. It features (left to right) Guest, the three transatlantic flyers—mechanic Lewis Gordon (1901–1964), Earhart, and pilot Wilmer Stultz (1900–1929)—and the local mayor.
.