Amelia Earhart and Eleanor Roosevelt
Underwood & Underwood (active 1880 – c. 1950)

Gelatin silver print, 1935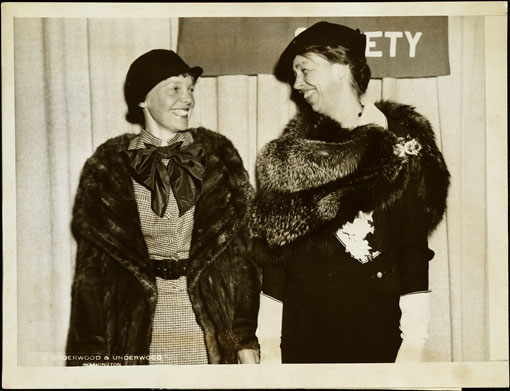 After her second transatlantic flight, Earhart continued to set out on record-breaking trips. Only two months after returning to America in June 1932, she became the first woman to fly solo across the North American continent and back.
She also found time for other projects, especially those that advanced women's progress in society. During this period she became close friends with first lady Eleanor Roosevelt (1884–1962). The two women shared a similar sense of independence and supported each other's causes.
Inspired by Earhart's example, Roosevelt wanted to obtain a pilot's license, although her husband rejected the idea. Earhart was a frequent visitor to the White House and was likewise influenced by Roosevelt. She supported the first lady's efforts to improve the lives of working women and joined her campaign to promote world peace.
.