Amelia Earhart with the Lockheed Electra
Unidentified photographer for Acme Newspictures, Inc.

Gelatin silver print, 1936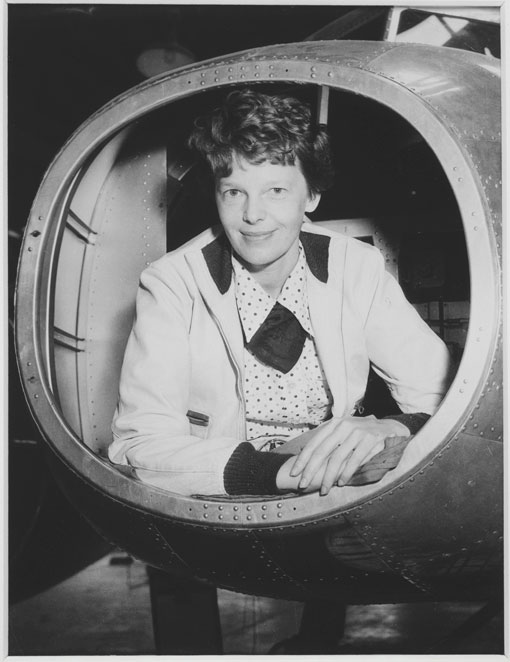 Earhart sits in the unfinished engine casing of the Lockheed Electra in this photograph. With its two engines and state-of-the-art communications equipment, the Electra was one of the most advanced aircrafts ever built. During this period, she also recruited two experienced navigators, Harry Manning and Fred Noonan, to accompany her on an around-the-world flight.
On March 17, 1937, they took off from Oakland, heading to Hawaii. This attempt at circumnavigating the globe was abandoned soonafter when Earhart lost control of the plane during a take-off from Honolulu. The damaged Electra had to be shipped back to California for repairs, and the much-anticipated trip was suddenly in jeopardy.
Despite this accident, Earhart was determined to try once again. After the Electra was repaired, she replotted her course, this time deciding to travel from west to east. On June 1, 1937, Earhart and Noonan left from Miami, although in their haste they left behind some crucial communications equipment.
Over the next thirty days, they traveled nearly 22,000 miles. Rather than completing the hardest and most dangerous segment early in their trip, their new route meant that their passage over the Pacific was to be completed at the very end.
On July 2, they left Lae, New Guinea, headed toward Howland Island, a small strip of land in the middle of the South Pacific more than 2,500 miles away.
.