Amelia Earhart with aviation students at Purdue University
Unidentified photographer

Gelatin silver print, 1936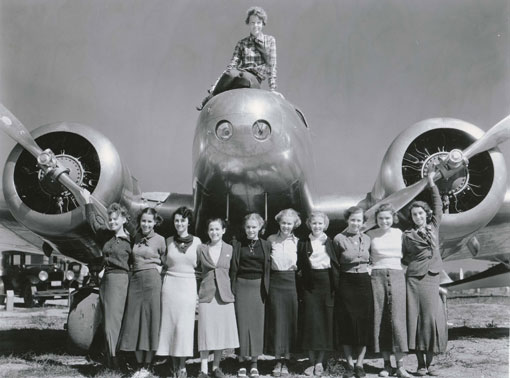 In 1934, Purdue University president Edward C. Elliott invited Earhart to head a new center devoted to professional careers for women. Despite having recently moved to Los Angeles and being busy with many projects, she accepted. As a visiting faculty member, she counseled women on career opportunities and served as a technical adviser to Purdue's Department of Aeronautics.
In addition to providing Earhart with a salary, Elliott also helped to secure financing for a new, specially modified plane to be built by Lockheed. Earhart called it her "flying laboratory," although the plane, with its large fuel tank, was built less for research and more as the craft in which she hoped to pursue her new dream: circumnavigating the globe.
In this photograph, she poses on top of the Lockheed Electra with a group of female aviation students from Purdue.
.