Currently on View:
Contemporary Americans
Ongoing exhibition
Third Floor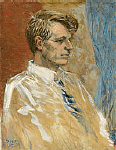 Four newly created galleries opening onto the museum's magnificent third-floor Great Hall showcase the major cultural, scientific and political figures of the 20th century. From the reform movements of the first two decades to the movements for social justice and civil rights of the 1950s, 1960s and 1970s and from the Great Depression to the Vietnam era and beyond, visitors can explore the never-ending struggle to attain the American goal of justice for all.











smithsonian institution

| privacy | copyright | sitemap | npg home




Museum Floorplan

View the museum's new exhibition spaces and layout.



View Floorplan (PDF)