Current Exhibition
One Life: Amelia Earhart

June 29, 2012 through May 27, 2013



Visit the Website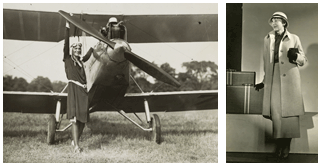 Amelia Earhart achieved international celebrity status as the first women to cross the Atlantic Ocean in an airplane. In the years after this flight in 1928, "Lady Lindy" set a series of aviation records before disappearing during a flight over the Pacific in 1937. While her achievement as an aviator is legendary, her commitment to women's rights is less well known. "One Life: Amelia Earhart" will tell the story of her remarkable life and career, focusing particular attention on her role in breaking barriers for women.

Timed to coincide with the 75th anniversary of her disappearance, this one-room exhibition will bring together a selection of portraits of Earhart in all artistic mediums, many of which are in the collections of the National Portrait Gallery and the National Museum of Air and Space. Visitors will also be able to see rare vintage film and audio excerpts of Earhart on a special video kiosk in the gallery. The exhibition curator is associate curator of photographs, Frank H. Goodyear III.

This exhibition is been funded by E*Trade. Additional support is provided by the Guenther and Siewchin Yong Sommer Endowment Fund.

Images:

"Miss Earhart Buys a Sports Plane" | by Unidentified Artist | Photograph reproduction, August 29, 1928 | Prints & Photographs Division, Library of Congress, Washington, D.C.

Amelia Earhart | by Unidentified Artist | Gelatin silver print, c. 1932-33 | National Air and Space Museum, Smithsonian Institution, Washington, D.C.






smithsonian institution | privacy | copyright | sitemap | npg home




Museum Floorplan

View the museum's new exhibition spaces and layout.



Gallery Floorplan


View Floorplan (PDF)